The Metro Minerva Theater redevelopment plan was rejected
The association's chairman, Carole Ferrier, was undeterred by the lure of a Parisian cabaret. "How many times will that actually happen before it goes away?" she said. "What they always promise is completely different than the end result."
Brandon Martignango, who runs the local Chamber of Commerce, Metro-Minerva Theater Action Group and nearby Dulcie's Bar, said the cabaret concept is theoretically appealing but far too ambitious for such a large space and Sydney's current climate.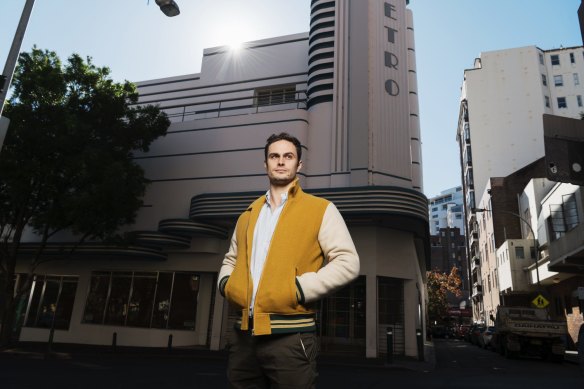 "That would be a very expensive show. I just don't think the market is here and it certainly won't be at Potts Point," he said. "We're going to be left with a huge empty cabaret dream that doesn't really work and is a giant white elephant that doesn't make sense to anyone."
Martignanago said if the developer had worked with a local company like Justin Hemmes' Merivale or hospitality empire Solotel, the concept would have been more credible.
"It's all just PR talk," he said of the brochure. "You have a beautiful pitch deck from an international company that probably doesn't understand the Sydney landscape."
Property records show developer Central Elements bought the site for $19 million last year. Lifestyle districts head Dean LaVigne said the new prosecutor's office had responded to advice and community and concerns, and that the company had agreed on a "quite amazing" concept with Parisian society, but he couldn't discuss it further.
Community groups that opposed the plan were "spreading false truths," LaVigne said. "They always call it a hotel — it's much more than that."
The previous government commissioned a feasibility study which concluded that it was economically and operationally feasible to convert the site into a 1000 seat theatre, but the government never chose to go ahead with the project.
Sydney has a well-documented shortage of major theaters, with big-name shows skipping Sydney entirely because producers can't find available space.
Incoming arts secretary John Graham said he has not yet been briefed on the developer's latest plan but in principle wants to protect Sydney's performance spaces.
Loading
Graham wants Sydney to develop a theater district like London or Melbourne and said this could work in Kings Cross and Potts Point and would complement the area's history. But it would require approval from the community and local businesses, he said.
Sydney City Council will now consider the latest development proposal. Central Elements is also converting the former Olympia Theater on Oxford Street, Paddington, into a luxury hotel and restaurant.