The macro recovery is weighing on micro growers
The President of the Victorian Farmers Federation, Emma Germano, said there were instances of "feasts and famines" for growers across the state as many felt the pressure of being unable to find pickers – driving the cost of some staple foods and vegetables into the Soared – while others operated in niche markets faced a slow recovery.
"We had a food system that was aligned the way it used to be, and now there are disruptions that were unpredictable," Germano said.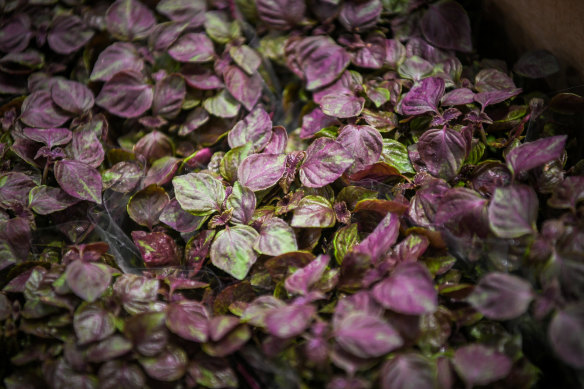 "If it's a niche product, not necessarily picked up from a supermarket, and the farmer has targeted that inner-city niche market, we know those particular farmers are in trouble."
Flowerdale Farm's business development manager, Michael De Palma, said sales of microgreens and edible flowers were down between 10 and 15 percent, but other herbal lines made up for the losses.
"Previous [to] COVID, it was a whole different game. I think it's down to consumers, how they've changed their lifestyles," Palma said. "It comes down to restaurants offering value for money for their produce… it flows back to us as agents and growers."
Some like Flowerdale Farm have replaced expensive produce with cheaper options, while B and B Basil plans to build a kitchen to turn herbs into pesto to find new markets.
"We're modernizing things to probably create a more competitive and cheaper product. And at the same time a more user-friendly product for chefs," said Radelaar. "It's about reinventing the product and making it more attractive."
Germano said while small business grants could help farmers diversify, she believed supply chains needed to be strengthened to ensure farmers could sell their produce.
"The most important thing is that we have to get enough staff into the country so that restaurants can function."
https://www.smh.com.au/national/victoria/feeling-the-pinch-of-herbs-macro-recovery-weighs-on-micro-growers-20220929-p5bm26.html?ref=rss&utm_medium=rss&utm_source=rss_national The macro recovery is weighing on micro growers