The legionnaire's hat is the ideal accessory
Summer fashion in general is terrible when the summer we're talking about is indeed hot, as it is in most of Australia – even in Tasmania, thanks to the horrors of climate change. It's a comfort-over-style season that I'm usually a huge fan of (a frequent conversation starter of mine sings the praises of orthopedic shoes, and most of my wardrobe could be described as "certainly comfy"). but true Summer heat makes any comfort impossible, at least if you're a sweaty person like me. I know I don't look good in linen two-piece suits, after wearing one once, catching a glimpse of myself in the mirror and realizing I resemble a toddler in crumpled pajamas.
As far as gender specific clothing goes, I have a physical dislike for the baggy colorful smock dresses that are trending right now. Mainstream summer fashion is a toddler or tall elegant lady's dream, neither of which I'm one of. The only time I've felt comfortable in a maxi dress was years ago when I was traveling around Europe and posed as a chic globetrotter rather than the anxious, thrifty traveler that I am. Eat gelato while exploring the Italian coast? very good! But strolling around in a long dress while running errands at Bunnings or working from home in a stuffy apartment? No grace.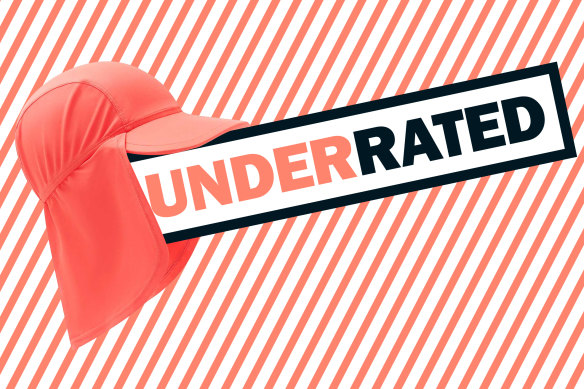 Experiencing my first summer in Sydney, I spent those muggy days in cotton singlets, hoping people wouldn't notice the sweat stains, which resemble lactation spots. And don't get me started on the classic Aussie thong – I've already mentioned my appreciation for orthopedic footwear, and these flimsy rubber flip-flops make fun of the human spine. But whether you're a linen lover or hater, you can't deny one item that transcends fashion and comfort: the humble legionnaire's hat.
As one of the few hats lucky enough to share its name with a disease, this backed hat is the ideal accessory for living under the ozone hole. I first discovered this accessory when I was enrolling in elementary school after moving from Canada and learning "no hat no game". I can't recall a similar rule at my Canadian school, but assume it was "no tuque, no buk" to prevent literal children from freezing their ears off outdoors.
When I got my new school uniform, I had a choice between a wide-brimmed hat and the Legionnaire. I chose the legionnaire because I felt comfortable, but quickly found that this was only accepted by supposedly uncool kids. The popular girls had wide brims that they throw behind their backs and dangle from the choker to avoid messing up complicated hairstyles with butterfly haircuts. That way they technically followed the "no hat, no game" rule and quickly dropped them on their heads when a teacher walked by before teasing the legionnaire bearers again. I like to think their teasing helped me grow into the emotionally unstable adult I am now, plus these girls shared hats and ended up with nits.
The legionnaire's hat protects that crucial part of the body that many of us forget in the summer, as you might have noticed recently when queuing at the supermarket behind a sea of ​​sunburnt necks. We are not allowed to use the term Farmer in Australia, but a sunburnt back of the head is an experience that transcends all class boundaries. I'm pro-individual liberties, but 'no hat, no play' should be encouraged in both adults and children judging by my recent shopping spree. Literal rednecks as far as the eye could see, using all my willpower not to squirt aloe vera on strangers' bodies.
Loading
This fluttering headgear encourages us to incorporate functionality into fashion and allows us to imitate French Foreign Legion soldiers if you are inclined. Don't actually do that, these guys were into terribly dark stuff. But then again, this army gave us an unrivaled version of the Sunsmart neck brace, so maybe they weren't so bad after all! (No, just double checked, they were really bad. Again, sorry. That's quite a roller coaster ride we're on together.)
https://www.smh.com.au/culture/comedy/keep-your-smocks-and-linen-sets-you-can-t-beat-my-summer-hat-20230103-p5ca2s.html?ref=rss&utm_medium=rss&utm_source=rss_culture The legionnaire's hat is the ideal accessory