The January 6 committee concludes and withdraws Trump's subpoena
New York: The US House of Representatives special committee investigating the Jan. 6 attack on the Capitol has withdrawn the subpoena it issued to former President Donald Trump, acknowledging that members of Congress had run out of time to read his documents or to obtain testimonies.
The committee is scheduled to dissolve on January 3 when the representatives elected at the November midterms take office. It waited until October to issue a subpoena to Trump, who promptly sued the panel to try to block it.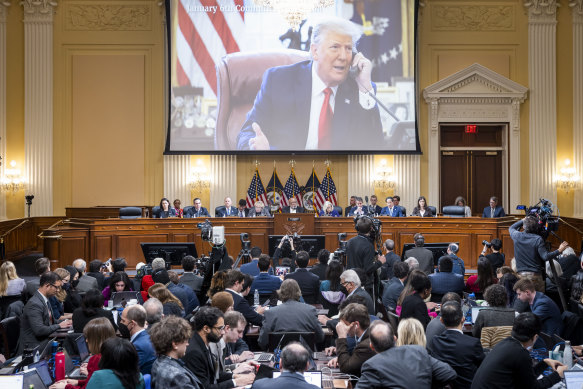 The panel had ordered Trump to compile an extensive list of documents and communications — including phone calls, text messages, encrypted messages, and emails — between November 3, 2020 and January 6, 2021, relating to almost every aspect of his efforts to void the 2020 election But Trump's lawsuit made it highly unlikely he would ever testify, given the committee's end date.
On Thursday (AEDT), Democrat Bennie Thompson, the committee chair, made it official by writing to Trump's legal team, telling them he was withdrawing the panel's subpoena.
"As you may know, the select committee has completed its hearings, released its final report, and will be coming to an end very soon," Thompson wrote. "Given the imminent conclusion of our investigation, the select committee cannot proceed further with the specific information contained in the subpoena."
Harmeet Dhillon, one of Trump's attorneys, celebrated the development on Twitter.
"After my firm filed a separation of powers lawsuit to block the January 6 House Select Committee's wrongful subpoena to President Trump for his activities as President, the committee waved the white flag and withdrew the subpoena," she wrote .
A committee spokesman declined to comment.
https://www.smh.com.au/world/north-america/january-6-committee-wraps-up-withdraws-trump-subpoena-20221229-p5c9d3.html?ref=rss&utm_medium=rss&utm_source=rss_world The January 6 committee concludes and withdraws Trump's subpoena