The heatwave continues after the hottest low in six years
Sydney weathered one of the warmest March nights in six years, with the heatwave expected to last into Wednesday.
As of midnight, the temperature on Observatory Hill remained at 24 degrees after Monday's high of 37.9 degrees. By 5 a.m., the temperature had only dropped to 22.3 degrees, the warmest overnight low since 22.5 degrees on March 30, 2017.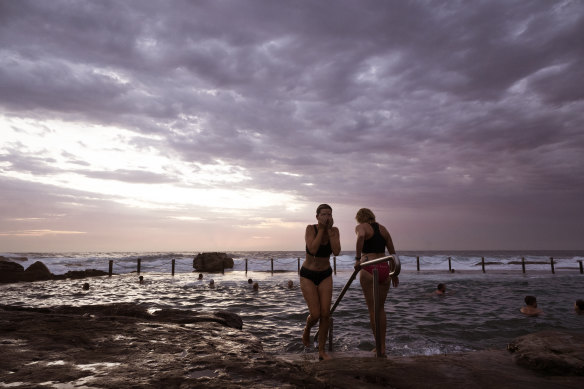 The Bureau of Meteorology predicts the Sydney CBD will hit 34 or 35 degrees and Penrith 36 degrees by early Tuesday afternoon as the NSW Rural Fire Service prepares for a difficult day of fast winds across NSW.
Weatherzone meteorologist Felix Levesque said winds dropped to about 4 mph overnight, meaning temperatures remained warm.
"Conditions are like an oven being turned off overnight and then the fan kept running, allowing air to be evenly distributed across the Sydney basin," he said. "Around 5 a.m. the wind dropped and the cloud cover lifted, it was like opening the oven door."
Temperatures will continue to rise until the wind changes late afternoon.
"The sea breeze seems to be more of a game factor [than on Monday]so we'll see those easterly winds earlier in the afternoon than we did at 7 p.m. yesterday," Levesque said.
Winds from the north to north-west are expected in the morning. Around 2pm the winds will lighten before around 4pm easterly winds hit the CBD and cool things down.
Sea breezes are unlikely to travel far inland, meaning the western suburbs won't cool down until after 7pm.
https://www.smh.com.au/national/nsw/like-an-oven-hottest-march-minimum-in-six-years-hits-sydney-as-heatwave-continues-20230307-p5cpx4.html?ref=rss&utm_medium=rss&utm_source=rss_national The heatwave continues after the hottest low in six years