The Green Party's new First Nations spokeswoman, Dorinda Cox, believes the nation is at a tipping point
The contrast with Thorpe should not be exaggerated as Cox is her own person. And she, like Thorpe, wants to achieve a First Nations treaty and truth-telling process to be honest about the past. Crucially, though, she has a different path to get there.
The chasm over the referendum divides those who see the voice as an obstacle or path to change, with indigenous women having tremendous influence on this vital issue. Progressives like Thorpe want to go straight to a contract. Conservatives like Jacinta Nampijinpa Price, Country Liberal Party Senator for the Northern Territory, want practical help and see the Voice as a bureaucracy that would get in the way.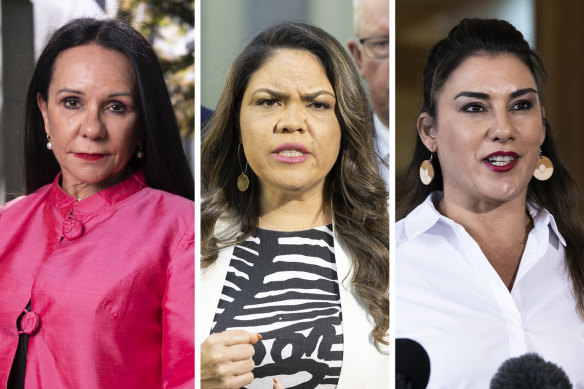 Is the voice a wall or a staircase? Cox has an argument that could sway Australians as the referendum approaches.
"If we get this right, The Voice will be a bonding moment," she says. "Now, in negotiating a future sovereign treaty, which is ultimately our goal, we must tell the truth about how the situation is."
Telling the truth about colonial history is central. "We need voices through a voice model that allows us to speak and allows us to act because we haven't done so in 230 years."
So the voice is a step towards contract and truth-finding. Cox sees no threat to her sovereignty, which she considers her birthright and has never relinquished, and instead believes the voice can be a practical way to improve conditions for tribal peoples. She cites Alice Springs as proof of the failure of the old approach.
"We have to understand that this is a by-product of the trauma of our history," she says of the problems in Alice Springs. "We have to grasp the concept that it is important to restore the voice and the ability to act as a minimum and we have to see through the long contract game. We have to make sure we bring the treaty closer.
"I feel like we're at a tipping point in this nation. And that's why I say it could be a bonding moment."
Cox still admires Keating and remembers his Redfern speech. Why isn't she a Labor Senator? She joined the ALP but only stayed six months; She says the industry gatherings made her feel invisible and didn't seem like grassroots democracy. She soon came into contact with Green Senator Rachel Siewert, who became a mentor. When Siewert decided to step down, Cox won the October 2021 preselection to replace her.
Loading
Personal stories shape politics. Cox comes to the voice referendum with lived experience that gives her real authority in the debate.
Her first step along this path, after visiting Canberra in 1994, led her to genuine heartache. She chose to join the police force — a decision that shocked her grandmother, who asked, "Are you going to take kids away?" She didn't. However, over the next eight years, she saw children being taken from their families and recognized the immense difficulty of transforming the institution from within.
She says she was young and naive when she signed up to be a police officer. She left the police force to become a Centrelink officer, becoming more interested in public order and focusing on politics.
Australians are often told about another ex-constable in Parliament, opposition leader Peter Dutton. He cited his decades of police experience this week as part of his explanation for the 2008 boycott of the Apology to the Stolen Generations.
Now voters have another ex-cop to listen to on Indigenous issues. And it's for the voice.
Break through the noise of federal politics with news, perspective and expert analysis from Jacqueline Maley. Subscribers can sign up for our weekly Inside Politics newsletter here.
https://www.smh.com.au/politics/federal/her-family-endured-five-stolen-generations-now-she-wants-to-unite-australia-20230215-p5ckt3.html?ref=rss&utm_medium=rss&utm_source=rss_politics_federal The Green Party's new First Nations spokeswoman, Dorinda Cox, believes the nation is at a tipping point