The great rivalry that will shape the art markets of the future
Art SG's first major success was bringing together by far the largest group of galleries in Singapore, with 164 exhibitors. The final number of visitors was given as 42,706. To put that in perspective, last year's Sydney Contemporary featured 95 galleries with 28,000 visitors. According to a press release, this was a "huge success".
However, there are many ways to measure success in this game. An early breakthrough for Art SG was the signing of a sizable group of Uber galleries including David Zwirner, Gagosian, Lehmann Maupin, Pace, Perrotin, Thaddaeus Ropac, Templon and White Cube. These are among the largest and wealthiest art dealers in the world, with a clientele drawn from the ever-growing ranks of global billionaires. Some, like Gagosian – which has 22 outlets – are effectively multinationals with lines of customers willing to take the dealer's advice on which high-priced artworks to purchase next.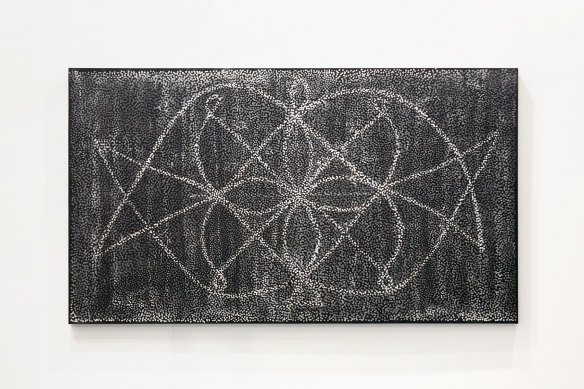 In today's contemporary art ecology, museums play a role in raising an artist's profile, the critics a much smaller role. The real power rests with the big commercial galleries, which create new stars, cement reputations, and foster good relationships with influential collectors and curators. For an artist, hiring a top gallery is a crucial step in getting their work into museums and important private collections. So much for fame and money. Can a place of history be far away?
The large galleries are magnets for the leading collectors and status symbols of a fair. Sydney Contemporary 2022 had none of these prestigious exhibitors, confirming Australia's marginal status in world art. Singapore fared much better, but it must be admitted that few traders give their best for Art SG. Their most coveted artworks were held back for another day (possibly in Basel or Miami) while the stalls were filled with work from storage.
Another coup was the sponsorship of UBS, the Swiss bank that identified more fully than any of its competitors with the international contemporary art market. The art fairs have become an integral part of UBS' global marketing strategy, with the logo acting as a seal of quality, like a Michelin star for a restaurant.
The actual organization of the fair was strictly hierarchical: the major galleries were located on the ground floor of the Marina Bay Sands Expo and Convention Centre, while the top level hosted a mix of special projects, mid-sized and emerging galleries. There was a section called Reframe, which featured digital art and NFTs, and the usual lively program of talks and presentations, including a mind-bending interview with Hiroshi Sugimoto, the Japanese artist known for small, minimalist sea photos and now is building design and landscapes.
From an Australian perspective, Art SG provided an entry point into the international market for the few traders willing to venture beyond our shores. There were exactly four: Sullivan + Sstocking, Station, Chalk Horse and Yavuz. Sullivan + Strumpf has now established itself as Australia's most internationally ambitious commercial gallery. It has been a consistent participant in art fairs while richer, more established galleries have chosen to stay at home. This continuity is paying off in the form of sales, new collectors and a new stable of Asian contemporary artists. Singaporean artist Dawn Ng, who exhibits with S+S, featured in a special solo exhibition at the UBS Lounge. Other artists such as Sam Jinks, Alex Seton and Sam Leach have proven to be favorites at art fairs.
Station, with galleries in Sydney and Melbourne, held a solo exhibition of new paintings by Reko Rennie. Founded in 2011, the gallery has secretly worked its way up the ranks and is now attracting a lot of attention. It's a risk-taking company willing to get behind some of the more adventurous works of art being made in Australia today.
Sydney's Chalk Horse gallery isn't one of the wealthiest galleries, but it has developed a real passion for the fairs. At Art SG, an exhibition of Clara Adolphs paintings sold out and the event became a networking exercise. As for Yavuz, the gallery was established in Singapore long before it opened a branch in Sydney, but has quickly become one of the city's most talked about venues. At Art SG, Yavuz featured Aussies such as Abdul Abdullah and Guido Maestri alongside a range of Asian artists.
Loading
Australian artists were also represented at some of the international dealers. A powerful diptych by Aida Tomescu was at Flowers (London/Hong Kong), while Daniel Boyd exhibited at Kukje Gallery (Seoul/Busan). Auckland gallery Starkwhite held a solo show of amazingly fancy minimalist works by Sydney artist Jonny Niesche and sold everything in sight.
So can the first edition of Art SG be considered a success? The organizers and many of the participating galleries were determined that this could be the case Nothing but a success. Accordingly, optimism and enthusiasm remained high even as sales slacked off on the second and third days after a promising start. Full sales figures from an art fair are always a mystery, as dealers tend to keep this information to themselves or selectively release it for maximum promotional value. Many sales take place either before or after the show, so exact totals cannot be determined.
The true success of Art SG can only be properly appreciated when Art Basel Hong Kong arrives at the end of March, which will tell us if there has been a significant shift in power in the Asian contemporary art market. With Art Basel already boasting 177 exhibitors, it may be that thoughts of Hong Kong's demise are premature. While the positive response to the first Art SG bodes well for the future of the event, this race still has a long way to go before the baton changes hands.
https://www.smh.com.au/culture/art-and-design/the-great-rivalry-that-will-shape-the-art-markets-of-the-future-20230131-p5cgsl.html?ref=rss&utm_medium=rss&utm_source=rss_culture The great rivalry that will shape the art markets of the future