The good vibes return with the second release of RocKwiz
Now the signature red velvet curtains, chandelier and desks have moved along with the RocKwiz Orkestra. Producers are enjoying the space and amenities, and fans don't even seem a tad upset. They're an engaging bunch and the vibe of the room suggests they're happy to be here.
This is partly because RockKwiz Team has kept the brand alive, the format dynamic and entertaining fans with touring shows over the years after it was axed in 2016. As anyone who has attended a live RockKwiz show knows, the party atmosphere is irresistible. Up until the outbreak of COVID in 2020, Nankervis recalls, "We did 2-month national tours, 25 or 30 shows, everywhere from Burnie to Darwin." More recently, they settled in big cities for single nights for logistical reasons.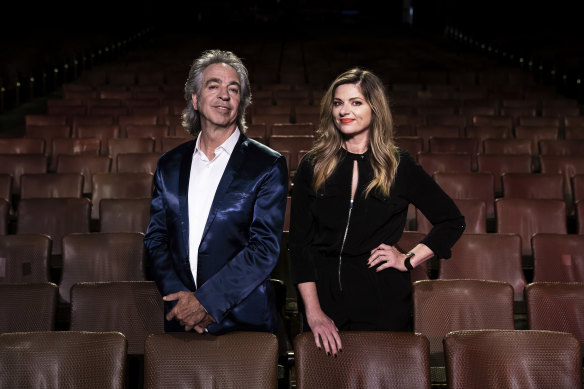 Over and beyond, RockKwiz has built a solid social media following with nearly 97,000 Facebook friends alongside a mailing list of nearly 30,000. "We have a tremendous commitment compared to a lot of other TV shows," says Bain-Hogg. "When I post a post, we get 30,000 likes very quickly, up to 60,000 in some cases, and hundreds of comments." When he put the call for listeners online at 6 a.m. one morning, he had to submit the applications at 11 a.m close with an apologetic announcement as all seats were taken.
Given the goodwill, it might be hard to understand why SBS canceled the show, which ran from 2005 to 2016. "We were hired at a time when they were trying to restart the conversation on the network," Connor recalls. But then the ax dropped, with Bain-Hogg explaining, "They went back to charter to be much more focused on the story and social issues."
Believing that their format and well-established team still had life in them, the producers unsuccessfully relocated the show to a different location. "We spoke to a few broadcasters and they said they liked the show, but most said it felt like a product that everyone was familiar with and that they would rather go for a new product," says Connor.
Then, while on vacation last year, Connor's partner spotted an email sent to an old address that they initially thought was spam. It was asked if they were available and interested in a revival. Five months after Foxtel's initial approach, Nankervis and co-writer Michael Ward had scripted the series, the team was reassembled, all eight episodes were shot and editing was almost complete. They had waited for the green light and knew exactly what they were doing.
Loading
With his love of music and reverence for the people who make it, RockKwiz has won a precious place in the hearts of viewers. It's created a warm and welcoming community where the familiarity of its polished format — trivia questions, ad lib banter, a combination of established and up-and-coming music acts — is viewed as an asset rather than a disadvantage.
It's also easy to see why it could have been an attractive offer for Foxtel. It's a program with an established brand name and a dedicated fanbase that represents an investment in local production at a time when the industry is crying out for such commitments from subscription services. Not only that, it's economical to produce since it takes place in a single studio.
So the RockKwiz Resuscitation meets many criteria. For his part, Connor says, "We're incredibly grateful for the opportunity to give it another try because our love for the show is probably as strong or stronger than all the people on the lists. Hopefully it breathes some life back into it and we can do more."
RockKwiz is on Fox8, Friday 24 February at 7:30 p.m. and Foxtel on Demand.
Find out the next TV, streaming series and movies to add to your must-sees. Get the watch list delivered every Thursday.
https://www.smh.com.au/culture/tv-and-radio/the-good-vibrations-return-with-the-second-coming-of-rockwiz-20230209-p5cj9t.html?ref=rss&utm_medium=rss&utm_source=rss_culture The good vibes return with the second release of RocKwiz