The Gandhi director's obsession is paying off
The film Gandhi takes a harsh view of colonialism, and Sir Richard took offense at some English columnists who had criticized him as anti-British.
"I see no shame in that in the 1980s we said yes we did that in India," he said. "I wanted to condemn the concept of colonialism. It happens that we British have had no alternative for dealing with the oppressed's objections to colonial rule. I didn't make the film as objective reporting."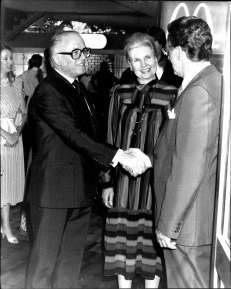 He sees the incongruity of an Englishman making a film about the man who helped achieve independence from Britain in 1947. Why didn't India make the film?
"No Indian has ever tried to make the film," he said. "They make 700 films a year. They have the largest industry in the world. They make the worst films in the world. Films that contain a logical plot or character development are not shot in India."
He said it takes an outsider to cut through the tangle of state allegiances, religious prejudice, caste, moral and religious inhibitions to make such a film.
Australian bushranger Ben Hall's idea has intrigued him for some time, and his current fascination is with American revolutionary patriot Tom Paine. But Sir Richard has no set plans after traveling the world with Gandhi.
Loading
"Theoretically. I'll rest," he said. "Don't grin, Hawkins."
And he wants Gandhi to win an Oscar or two in America, in the interest of the British film industry.
https://www.smh.com.au/culture/movies/from-the-archives-1983-gandhi-director-s-obsession-pays-off-20230302-p5cot9.html?ref=rss&utm_medium=rss&utm_source=rss_culture The Gandhi director's obsession is paying off