The friends who have been sketching Melbourne for 50 years
If you've been following artist duo 2 Men Drawing, you might be surprised by the rare pop of color added in collage details, a golden crust lasagna and the recognizable red neon sign in their latest work. They will adorn the rotating gallery wall of Fitzroy's stalwart Marios Cafe, with profits from all sales being donated to Parkinson's Victoria.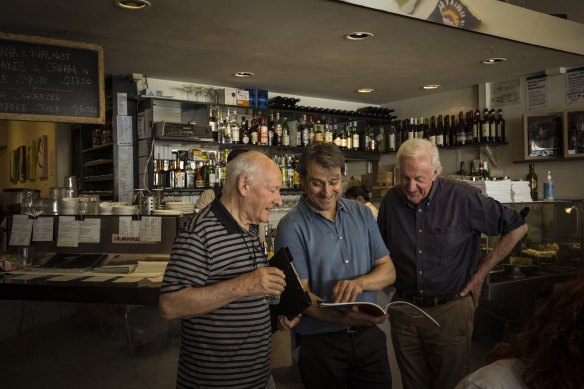 Peter Mills, an architect, and Bruce Harvey, a former advertising executive, usually stick to the chiaroscuro effect of pencil and charcoal when drawing. "Colour scares me," admits Mills when we meet at Harvey's garden studio in Brighton.
It's hard to imagine anything unsettling this remarkable team. Their first show together some 40 years ago was inspired by the owner of another popular Melbourne Italian restaurant, formerly Vivaldi's Collins Street hangout.
It was a convenient lunch spot when Mills worked at architectural firm Bates Smart and Harvey worked internally for Myers' advertising department. "We used to draw on the tablecloth and throw it away, but Joe, the owner, suggested we buy real paper," Harvey recalls. "He would keep our drawings and we could do an exhibition."
Lunch (plus wine) was on the house. They donated the proceeds of $8000 to the Melbourne City Mission, a kind gesture that led the young 2 Men Drawing to their next gig. "The colleague from the mission changed jobs and became a program manager at ABC," adds Harvey. "He called us and asked if we'd like to paint on the radio, which we thought was a little bit unique."
Harvey and Mills attended shows and sketched the guests. "One was a guy named Trevor Green," explains Harvey – then executive director of the Melbourne Symphony Orchestra.
This meeting led to several years of rehearsal for the orchestra and two exhibitions. "It was the best drawing practice," says Mills. "We had to learn to draw people who aren't static. They were everywhere with their instruments. We would have to take pictures with our heads and remember where they were 10 seconds ago."
A man from the MSO reappeared. "One of the violinists had a huge beard," Harvey recalls. "We also love life drawing and one day we decided to go to the University of the Third Age in Malvern. There he was, but undressed, playing his violin."
https://www.smh.com.au/culture/art-and-design/the-two-friends-who-ve-quietly-been-sketching-melbourne-for-almost-50-years-20230112-p5cc36.html?ref=rss&utm_medium=rss&utm_source=rss_culture The friends who have been sketching Melbourne for 50 years