The family takes Rob Leota to a new level for the Melbourne Rebels
"He kept asking me what was going on? I said don't worry it's nothing. But he felt like I had something serious," Vao said.
"It all happened in the same year – I got cancer, he made this team and was signed by the Melbourne Rebels.
"It made me happy and I encouraged him to keep going – don't look at me, look at his future."
Eight years later, Vao says her cancer is now stable, she has also recovered from a heart bypass in 2020 and is back working at a catering company.
Loading
"I take happiness from all my kids and I wanted to move on — that's why I feel better now," Vao added.
Leota, now 26, is the first Victorian to captain the Rebels and has made 14 Tests for the Wallabies but is currently recovering from a torn Achilles tendon he sustained against New Zealand at Marvel Stadium last year.
Leota is fast approaching a return to training, hopefully he can return before the end of the Super Rugby season and push for a spot in Eddie Jones' Wallabies squad for the Rugby World Cup in France in September.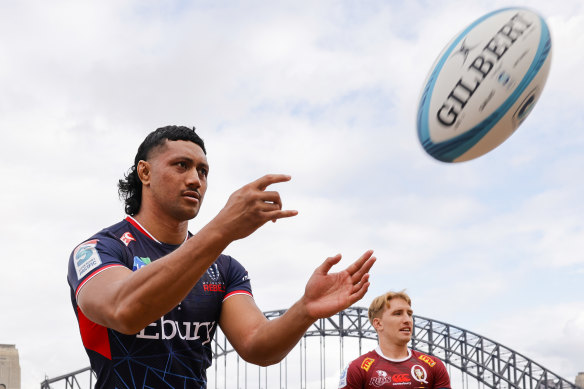 Rugby Australia and the Rebels have also supported his recovery, re-signing him for the 2024 and 2025 seasons.
He draws motivation from a conversation he had with his parents when he was 16, who urged him to take rugby seriously.
"My dad said I want you to be able to look after your mum when we get older and use rugby as an opportunity," Leota said.
"I remember waking up the next morning and seeing the hall light come on and my dad going to work as a welder. It was 5 a.m. Those words have influenced the way I think so much and where I am today."
The Leotas arrived in Melbourne via Samoa and New Zealand and although rugby had a small impact in the city it played a big part in their lives as most of their family and friends played at Northcote Rugby Club.
In the seventh grade at Thornbury High School, Leota was recruited to the school by teacher and local rugby star Grant Wason and it led him to the sport at club level.
He developed quickly and was soon given some home truths by coach Rika Sa'aga, a former Samoan international whose son Fereti and daughter May both went on to play for the Rebels, as he made the switch from full-backs to forwards.
This move propelled him to a career at higher levels, but at 14 he was kicked out of the Rebels academy.
"I wasn't fit and mentally strong enough," said Leota.
"There were times when I dawdled during games. I would just stop if I was in pain.
"I broke down. But I wanted to cancel mine [older] Brother Sili saw something in me that I didn't see.
"He signed me up to a personal trainer, a guy named Lou. I went to him for about two months and it changed my attitude."
Sili had his little brother call Academy coach Matt Tink and ask for a second chance.
"My brother made me call him," Leota said, laughing.
"Matt said he was happy to take my call and was willing to give me a second chance.
"When we hung up, Sili asked if Matt had told you to do 50 push-ups now, would you do it? I said why should I do that? He tested my toughness. I pumped her out and we shared a special moment there.
Leota's work ethic is now one of his strengths, as is his resilience as he has fought back after three injury-plagued years to become a star in the 2021 season and carve his way into the national team.
"It's all just extra motivation to get back on the field with a team that loves and respects me," Leota said.
"I can't wait to get back out there in May."
The Rebels host the New South Wales Waratahs at AAMI Park at 7:35 p.m. AEDT on Friday.
https://www.smh.com.au/sport/rugby-union/mum-started-tearing-up-the-melbourne-rebels-first-home-grown-captain-on-hitting-rock-bottom-20230308-p5cqd8.html?ref=rss&utm_medium=rss&utm_source=rss_sport The family takes Rob Leota to a new level for the Melbourne Rebels