The DJ boss says customers are still spending, but uncertainty is ahead
Latitude Financial and David Jones confirmed Monday that they have signed a 10-year deal in which Latitude will make two new credit cards available to David Jones customers starting in September 2023.
David Jones' former financial services partner, American Express, was sued by the Australian Securities and Investments Commission (ASIC) last year over allegations that the company failed to meet its obligations to properly address eligible customers with the David Jones co-branded Amex.
The regulator claimed Amex was aware that cancellation rates were high among customers who applied for cards in David Jones and that some consumers were confused as to whether they had applied for a loyalty or credit card, but that Amex had not verified that there were eligible customers address.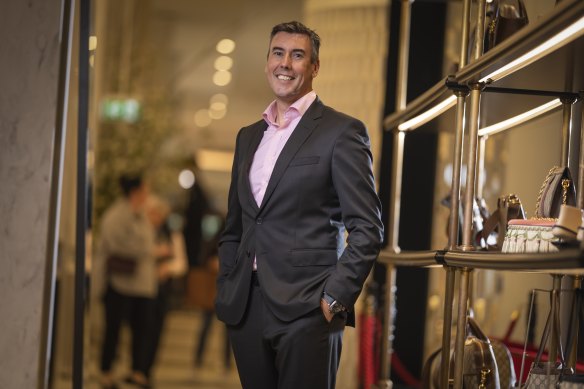 The case is the first time the regulator has tested new consumer protection laws that shift the responsibility from customers who read the fine print to providers who must ensure a product meets consumers' needs.
Customers who held David Jones-branded American Express cards were told last week that the card program would end this year.
Fyfe told this imprint that the launch of the Latitude partnership was unrelated to ASIC's investigation into American Express, noting that David Jones has been evaluating new potential financial services partners since last year.
Loading
"Latitude gave us the best deal because it's an all-around deal for us. It's available to our customers digitally and physically," he said.
Ahmed Fahour, Latitude's chief executive and managing director, said the company is focused on meeting regulatory requirements for consumers and giving them the best possible experience using the cards.
"For me, the regulatory standard is the minimum standard. There is actually something that goes way beyond that, and that is consumer protection," he said.
"The last thing in the world we want is for someone to have a card they can't afford. This is bad for everyone."
The Market Recap Newsletter is a summary of the trading day. Get it every useday afternoon.
https://www.smh.com.au/business/companies/djs-boss-says-customers-are-still-spending-but-uncertainty-is-ahead-20230130-p5cgdn.html?ref=rss&utm_medium=rss&utm_source=rss_business The DJ boss says customers are still spending, but uncertainty is ahead