The distance between dog and shark excites tourists on a boat tour in the Bahamas
San Juan: The sight of a giant hammerhead shark was a rare treat for 32 travelers on a tour boat in the Bahamas this week. But then something stranger: A dog dived from a nearby dock to confront the sea creature.
In a video circulating on social media, tourists aboard the four-hour excursion can be heard shouting and asking the dog to turn back. "Oh dear God!" and "Get out baby!" and "Stop chasing after him!" you hear them say.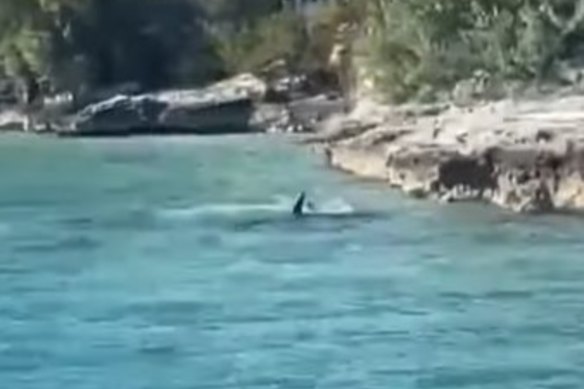 The dog ignored her and paddled after the four-meter-long shark, which thrashed as the two animals circled each other in transparent turquoise waters near a private island in the southern Bahamas. Then the shark slowly swam away, much to the delight and surprise of the crowd.
"I don't think the shark will mess with him!" cried a man.
The shark emerged from under the boat on Wednesday during a tour organized by Exuma Water Sports in the southern Bahamas.
Rebecca Lightbourn, the company's reservations manager, told The Associated Press on Friday that the black and tan dog always runs along the shore to greet the boat as it passes that island. But it's the first time it's been seen submerging.
"I think this time the dog decided he wanted to protect his house or play in the water with a really big fish, so he went after him," Lightbourn said.
As the shark swam away from the pier, the medium-sized dog crawled back onto the rocks and hopped away, earning applause from the tourists. The boat then proceeded to a popular area where tourists jump into the water with the famous Bahamian swimming pigs.
https://www.smh.com.au/world/north-america/get-out-baby-dog-v-shark-standoff-wows-tourists-on-bahamas-boat-tour-20230218-p5clk2.html?ref=rss&utm_medium=rss&utm_source=rss_world The distance between dog and shark excites tourists on a boat tour in the Bahamas