The current bus line takes twice as long as the train
More than 100 people are waiting on platform 2 of Canterbury station at 7.46am on Wednesday and when the T3 train line pulls in everyone will know what the next 33 minutes on the journey to City Hall will be: tight.
The train has picked up hundreds from Birrong, including in Bankstown, Lakemba and Belmore. When the next service arrives 16 minutes later, it is an incentive to get in at all.
"It's a bit uncomfortable," says a man of the long wait, while the scoreboard shows we'll be here in ten more minutes. "But they're building a subway to make it go faster."
His hopes are not entirely misguided – Premier Chris Minns boasted that the tube would run every four minutes – but the transition will not be easy. From July 2024, commuters at 11 stations on the T3 line will be served by buses to stations with working train routes or directly into the city for at least a year.
Transport Secretary Jo Haylen said on Tuesday the Government was working to "ensure that a public transport service is available for all passengers at this time of disruption" and that the Government was considering not only the deployment of replacement buses but also new local and express routes .
The current bus journey from Canterbury train station into the city is similar to the Bankstown line, giving commuters a taste of what's in store for next year. A trip that takes 33 minutes by train takes one hour and three minutes by bus.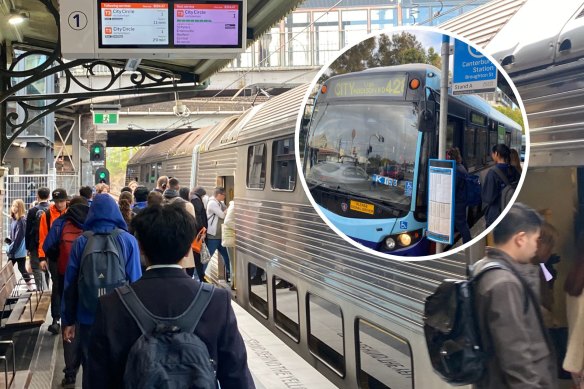 At the same time as the 8:06am train left Canterbury Station – which dropped passengers off at City Hall at 8:37am – we boarded the 428 bus bound for Martin Place to compare the two modes of transport. (We chose Canterbury train station as it is the only affected station with a direct bus service into the city.)
Route 428 winds through Dulwich Hill, Marrickville and Newtown in the inner west and includes the often busy and slow-moving Canterbury and New Canterbury streets, Enmore Road and King Street.