The chefs of the day 11 and a taster specialist prepared the lunch
Aside from the shark fin soup, guests worked their way through a combination of various cold cuts, chicken fillet in a special "rainbow" sauce, fresh shrimp with walnuts, Chinese mushrooms with vegetables, chicken with crispy skin, yang chow fried rice and double happiness noodles and sweet oranges.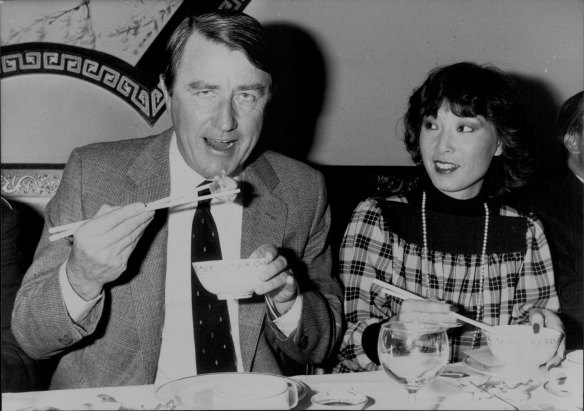 The 30 waiters, chosen from all of the Wong family's restaurants (the old Tai Yuen, the new Tai Yuen and the Tai Yuen Palace itself), skillfully roamed the crowded room and were rewarded with autographs from the Chinese official group at the end of the banquet.
Few, however, seemed willing to accept the premier's invitation to return to China and "see the great changes that have taken place in your hometowns…".
Nonetheless, they applauded happily and enthusiastically drank his toast to Chinese-Australian friendship. The Premier left, again applauded by the crowd gathered outside, with a visit to the zoo and another banquet to look forward to in the evening.
When asked by a member of the Wong family how much it costs to close the restaurant for the usually hectic lunch hour, he obscurely replied, "X amount."
The visiting Chinese and local officials were guests of Stanley Wong.
Loading
"That's our compliment," said the family member. "Besides, it's good publicity."
Quite. But like someone said, it's a long road to a Chinese meal.
And bought 300 tickets for $17 each?
"It went to the Tai Yuen Palace," another family member said happily, covering the cost of feeding the 300.