The blurred lines between Goldman's CEO's job and his DJ gig
He's also forged at least one industry connection through Goldman's work in the music business, which has helped him pursue his hobby and raises questions about whether his opportunities arose because of his talent or his position as head of Wall Street's most elite investment bank.
"The question is, what's best for Goldman Sachs?" said Jonathan Macey, professor of corporate and securities law at Yale Law School. "Does Goldman Sachs deserve this guy's undivided attention?"
"There's a kind of prima facie look of 'You scratch my back, I'll scratch yours.'

Yaron Nili, associate professor at the University of Wisconsin Law School
In an emailed statement, a Goldman spokesman, Tony Fratto, said that DJing is a hobby for Solomon and has nothing to do with the bank's business.
"Reporting attempts to suggest that David's music pursuits and his role as CEO of Goldman Sachs overlap or mix," Fratto said. "It is clear that both David and Goldman Sachs have been careful to keep the relationship separate."
The apparent ease with which Solomon landed the Houston remix deal caught the attention of many in the music business, where even successful musicians must hurry when seeking the boon of the various agencies that control the copyrights of worldwide hits.
Amateur DJs without Solomon's direct line to Mestel would have had a much harder time getting approval to remix Houston's hit, said Guillermo Page, associate director of the music business and entertainment industry program at the University of Miami's Frost School of Music.
"If you're dealing with someone Whitney Houston's size, there's a good chance they have some restrictions on who can use the audio recording," Page said. "Just because you want to do your own remix or creation doesn't automatically mean you're approved."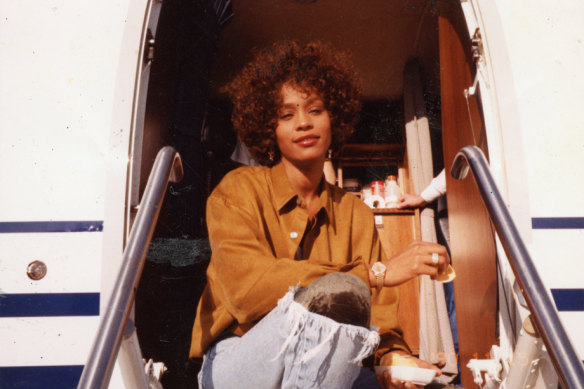 After Solomon and Mestel settled in Houston, Mestel convinced Pat Houston, the late singer's sister-in-law, who is the executor of her estate, to sign off on the project, Pat Houston said in an interview. Sony Music Entertainment, which owns the original recording of Whitney Houston's song, also approved it.
"Part of our business is getting artists to cover, sample and/or remix our iconic catalog of songs," Mestel said in an emailed statement. He declined to disclose the terms of the deal. Fratto said Solomon's attorney has reached out to Sony for details. Sony declined to comment.
Loading
Solomon's remix may have helped boost his presence as a DJ lately, with around 600,000 monthly listeners on Spotify, said Serona Elton, a professor at the University of Miami and director of the music industry program at the Frost School of Music.
"That's a very high number for a relatively unknown artist," Elton said.
At the same time, Solomon's overall rank as an artist — measured by the number of people who stream his music rather than listening to it on a pre-made playlist — remained low, she said. On Chartmetric, which ranks all published artists based on their streaming stats and social media mentions, Solomon peaked at #37,547.
Elton said that was pretty far down the list, "above the masses only checked by her mother, but certainly not a name that most people on the street would know." But she added that "a really crazy hot track", like the Houston remix, "can break through the clutter and grab attention".
In a November email, Mestel said he suggested the song to Solomon in 2021 and the remix has been streamed more than 2 million times on Spotify.
"Seems like he did a pretty good job," he said.
By early February, the remix released by Arista had been streamed 3 million times. (By comparison, the original hit has more than 915 million streams on Spotify.) Another track he collaborated on with Grammy winner Ryan Tedder has racked up more than 8 million streams on Spotify.
Mestel said he met Solomon "many years ago when he was running investment banking for Goldman and he came to my office to talk business."
Solomon became CEO of the bank in 2018, the same year Mestel's Primary Wave became a Goldman client – although another Goldman banker already had a relationship with the company. The following year, Mestel was named one of the year's "100 Most Fascinating Entrepreneurs," an annual list published by Goldman. According to one person with knowledge of the process, the list was a pet project of Solomon's.
"There's a prima facie sort of semblance of 'You scratch my back, I'll scratch yours,'" said Yaron Nili, an associate professor at the University of Wisconsin Law School who specializes in corporate and securities law.
"No economic component"
Fratto said Solomon did not personally choose Mestel for the list and that their relationship had "no economic component."
Solomon's dealings with music industry executives come as many large corporations have begun buying catalogs of established artists and building new money-making ventures.
Last year Sony bought the entire catalog of Bob Dylan's recorded music. Recently, a firm backed by private equity giant Blackstone reportedly paid $200 million for the rights to pop artist Justin Bieber's catalogue.
For investment banks like Goldman, which make money advising companies and arranging loans, these deals can be a meaningful revenue stream. In 2022, music giant Broadcast Music (BMI) hired Goldman to advise on a potential sale, according to Bloomberg News, which also reported that Goldman advised music company Concord on a potential deal.
Since 2016, Goldman has published a closely watched annual report titled Music in the Air, which details current trends in music investments and releases and provides projections for future industry performance.
"Goldman is very interested in music," said David Lieberman, associate professor of professional practice in media management at the New School. "They see it as an opportunity and for seemingly good reasons. These catalogs seem to have really enduring value."
Fratto said that Goldman has a "large established business in the music industry dating back decades" and that there was no connection between Solomon's hobby and the bank's business interests.
In 2018, Solomon founded Payback Records, which a label spokesman described as a "small, nascent but up and coming side project" from the bank boss. It's unclear how many employees Payback has, but a young, aspiring music industry executive named Adam Alpert, who is nominated for a Grammy this year, is known in the industry as Solomon's informal manager, according to two people familiar with the description. Solomon also identified Alpert as his manager to Goldman employees, according to a person familiar with the matter.
Fratto said the two men are friends. Alpert, who runs Disruptor Records in a joint venture with Sony, has offered Solomon an idea or an opportunity "on rare occasions," Fratto said, but "David doesn't have a manager because he doesn't need one: there's nothing to manage."
Loading
In the summer of 2020, at the height of the COVID pandemic, Solomon played at a show in the Hamptons fronted by The Chainsmokers — a band Alpert manages. (New York City health officials were investigating the event for "rampant violations" of COVID protocols. Solomon later admitted to Goldman insiders that he made a mistake, The New York Times has reported before.)
Executives often rely on office assistants to manage their personal and professional calendars, but Solomon has sometimes gone further.
Brandon Launerts, a former Goldman employee who worked in the bank's marketing department as a social media manager, occasionally had phone calls to people who worked for Payback — including a marketing firm it uses to boost Solomon's social media presence administer. The aim was to discuss strategies for promoting Solomon's new music releases and performances and making sure his DJing activities don't interfere with his Goldman commitments, according to two people who were aware of the calls.
Fratto called the communications "normal" because they included coordinating appointment matters and considered "potential risks" to Goldman. He added that given Solomon's limited DJ engagements, the calls are infrequent.
This article originally appeared in The New York Times.
The Business Briefing newsletter delivers important stories, exclusive coverage and expert opinions. Sign up to receive it every weekday morning.
https://www.smh.com.au/business/banking-and-finance/the-blurred-lines-between-goldman-ceo-s-day-job-and-his-dj-gig-20230206-p5ci65.html?ref=rss&utm_medium=rss&utm_source=rss_business The blurred lines between Goldman's CEO's job and his DJ gig