The bill for repairing potholes reaches a record $4 billion
The Australian Local Government Association, which represents the country's 537 local councils, recommended in its paper that Commonwealth, state and territory governments develop a sustainable road financing model to properly maintain the local road network "through better upfront investment to make it more resilient." the effects of storms".
South-west of Sydney, Wollondilly Shire Council said storms, flooding and bushfires in the area between 2020 and 2022 had resulted in "widespread significant road failures". But the council said it was a "consequence of long-term chronic underfunding leading to poor wealth management".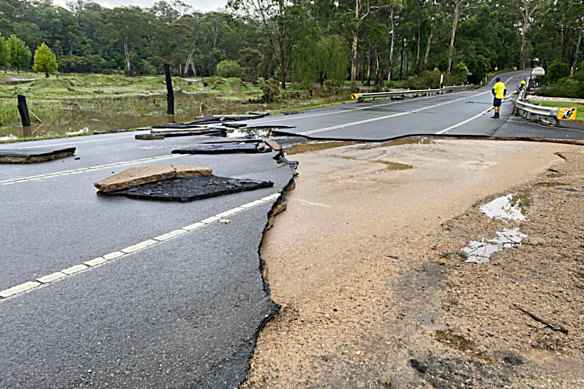 The council said the Commonwealth should consider establishing fair road ownership criteria by the different levels of government to ensure consistency and reduce cost shifting to lower levels.
The New South Wales government said it repaired 128,000 potholes in the six months to December 2022 after wet weather damaged 13,000km of roads and the repairs cost an estimated $2.5 billion to $3 billion.
In February, the New South Wales government announced it would provide $220 million to 35 of the hardest-hit communities to repair potholes in Sydney. A pothole repair program will also be tested.
Loading
Announcing the federal inquiry in December, Labor MP Luke Gosling said the government was concerned about the "increasing deterioration" of the national road network, particularly in regional, rural and remote areas.
The House Standing Committee on Regional Development, Infrastructure and Transport said the inquiry, which held hearings in Canberra and this week in Wodonga, will look at road design and building standards to "bolster the resilience of roads to natural disasters, including the critical role of climate change trends and data informing infrastructure standards.
"Extreme flooding and other natural disasters across the country have impacted many Australians and the committee wants to understand how road planning and construction can be improved to make roads more resilient to climate and to support our communities," das said committee.
The Morning Edition newsletter is our guide to the day's most important and interesting stories, analysis and insights. Login here.