The biggest sporting innovator you've probably never heard of
He is ready.
Loading
Only Delamere and his team's assistant coach know what he's up to. Special guest commentator, NFL star OJ Simpson has no idea.
OJ: And here's Washington State's Delamare, who's the third favorite. . ."
Delamare takes off down the runway, he takes off, he . . . turns! Officials and viewers gasp even as OJ Simpson himself freaks out at the sheer athleticism and awe at it: "Oh my god, did you see that?"
Coincidentally, Delamare overshot the target, so the jump doesn't count and isn't measured. But word spreads and people are gathering for his second jump. He starts again and flips over, his feet coming down to 8.40 meters before falling backwards so his butt reaches 7.70 meters. But that also gets him first place with reigning Olympic champion Randy Williams!
OJ loses his nut, as does the crowd.
The next day the LA times puts the kiwi on the cover with four photos sequentially showing the mechanics of his leap.
And then what? There's a flap on the flip that flops. That means the governing body of athletics, the IAAF, bans it. The Fosbury flop would lead to lasting fame. The "Delamere Flip" ended up in the trash can, where it has stayed ever since.
"They said it was too dangerous," Delamere, who later became a cabinet minister in the Bolger government, tells me with some emphasis, "and that's crazy. Dangerously, these little girls tumble onto gymnastics bars, lift themselves off, and do triple somersaults. That is dangerous."
I'm with the IAAF. Without a ban, many people would certainly have ended up in wheelchairs. (So ​​do NOT try it at home.)
But I still think: What a leap!
Thrown to Lyon
This is what we call GOOOOOLD in the industry, and it comes from our esteemed colleague Christian Nicolussi, who had the Sea Eagles' Brad Parker tell the story of his final training session before his NRL debut on the eve of his 100th game.
"I'd only practiced with the first grade squad once or twice," Parker said. "I knew them all, but they didn't know me. I ended up dropping about eight balls. I couldn't catch anything.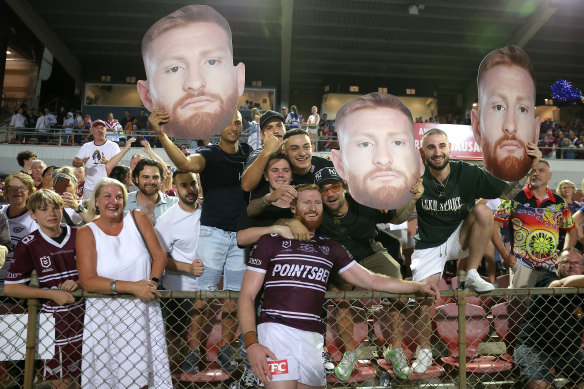 "At one point Jamie Lyon threw a ball right into my gloves and I dropped it anyway. Jamie turned around and said to the boys, "It's alright, it's on me," just trying to take care of me.
"Even after the training session, Jamie came up to me and said, 'How would you rate this session out of 10?' and I said, 'Probably a B,' and Jamie said, 'Where the hell do you get a B?' "
A discussion on the term concussion
You'll recall that not so long ago, hitting someone with a big fist they never saw coming was a "king punch," a name that glorified the act. Since then, it's rightly become a "coward's blow," and the game has changed. It's not like such attacks have stopped, but at least the power of language is now calling it what it is.
One Fitzphile, Scott Brunsdon, suggests doing the same thing with "concussion" and calling it what it is: "brain injury." What do you think? I like that. Even now there are critics out there who don't get the seriousness. This week, the NRL introduced the mandatory 11-day withdrawal policy after suffering a confirmed severe concussion. Wouldn't it make sense to use that terminology and refer to the 11-day stand-down pause for "brain injury"? This would highlight the issue much more than the relatively innocuous word "concussion" and ease the pressure on players to come back before they're ready.
Long live test cricket
Tell me again who says test cricket is dead? The Kiwis have just played two of the greatest Test matches of all time. First they had to go on and beat England in one run.
Next came Sri Lanka and the scores were even in the final ball of the game. The Kiwis ran to a bye even as Sri Lankan wicketkeeper Niroshan Dickwella collected the ball, threw it at the nearest stumps and missed. But the bowler, Asitha Fernando, grabbed it and threw down the stumps on its end as Kiwi batsman Kane Williamson dived. The third referee's replay showed he nailed it! Another one-ball win for the Kiwis.
They're games that will be remembered for decades to come, while people just can't remember T20 and ODI games from a week ago!
what they said
#1 golfer in the world Scottie Scheffler about his 87-year-old grandmother, who walked across the field with a Zimmer frame to watch him play the Players Stadium Course in Florida last weekend: "Grandma lives about 20 minutes up the road. She will be 88 in about a week and a half. She went all 72 holes. Also yesterday. I'm so lucky to have my family here."
Luke Keary on Kalyn Ponga's repeated concussions: "Everyone's going to want their opinion on this, but it's probably best for them to turn off the TV, hang up the phone and talk to the right people and not listen to anyone."
English rugby player JamieGeorge apologizes to England fans after 10:53 loss to France: "Fans who leave early are hard to take because I understand that – I'm a fan myself. I want to apologize because I really am one of them."
Australia manager David Nilson after the baseball team qualifies for the Quarterfinals of the World Baseball Classic: "This matters on so many levels. This means a lot for players who have represented Australia before us, for the current group and for future players. I hope people are inspired by this group's breakthrough."
English football and BBC commentator legend Gary Lineker upon returning to work after being suspended for tweeting against the UK's Stop the Boats program, which mimics the Australian program: "As difficult as the last few days have been, it just doesn't compare to having to flee your homeland from persecution or war to seek refuge in a country far away. It is heartwarming to see the empathy of so many of you for your plight. We remain a country of mostly tolerant, hospitable and generous people."
Michel Margalit On the Class Action Lawsuit by Former Players Against the AFL: "The injuries sustained by this group of former AFL players as a direct result of concussions while playing Aussie Rules have had a devastating impact on their lives and the lives of their loved ones. Some of the players who joined this landmark class action lawsuit were never able to keep a job after retiring from the AFL. Their personal lives have been destroyed and they live in constant physical and mental pain. It's heartbreaking and they need proper care."
Dick Fosbury 2012 on the fame that came with inventing the Fosbury flop: "It was too much. I was a small town kid who did something way beyond what I ever expected. I liked the attention but I wanted it to end eventually. It couldn't be done like that . People put me on a pedestal and held me there. I didn't want to be on a pedestal. I got my medal and I wanted to be back on the ground with everyone else."
Defender of the PGA Faith Rory McIlroy got out of hand with his actual golf lately: "I would like to play golf again. It's been a busy few weeks. It's been pretty busy for six or eight months. But now everything is announced somehow and the wheels have been set in motion. So it should be quieter from here."
Collingwood trainer Craig McRae: "My wife thinks it's me [the Ted Lasso of the AFL]."
Trento Robinson on the young viewer who allegedly racially abused Latrell Mitchell while wearing a Rooster top: "Whether we like it or not, they wore our colors. We have to accept that. But that doesn't mean they're a rooster."
team of the week
Meg Lanning and Ellyse Perry. Leading run scorers in the women's IPL.
Ireland rugby team. Take on England later today this weekend and look for their fourth Grand Slam.
Ben Tudhope. Para snowboard cross world champion.
Raiders/West's Tigers/Eels. Are the only NRL teams yet to win.
Tim Tszyu. Won a world title in boxing – just like his father Kostya.
swans and giants. Start your AFL season this weekend.
Erling Haland. Became the third player in Champions League history to score five goals in one game as he led Manchester City to a 7-0 win.
David Venkl. Break the world record for diving under the ice to a depth of more than 50 meters without a wetsuit. The mind confused.
RIP Dick Fosbury. The athletics legend died at the age of 76. The American jumped backwards over the bar and won gold at the 1968 Olympics in Mexico.
Twitter: @Peter_Fitz
News, results and expert analysis from the sports weekend are sent out every Monday. Sign up for our sports newsletter.
https://www.smh.com.au/sport/tuariki-delamere-the-greatest-sporting-innovator-you-ve-probably-never-heard-of-20230317-p5csxx.html?ref=rss&utm_medium=rss&utm_source=rss_sport The biggest sporting innovator you've probably never heard of