The Best Picture nominee, All Quiet on the Western Front, was reviewed
nothing new in the West ★★★½
(MA) 147 minutes
This re-adaptation of a classic about young German soldiers in World War I does everything well but stays true to Erich Maria Remarque's novel.
The book has been adapted three times. The first version of Lewis Milestone won the Academy Award for Best Picture in 1931 and has earned its place as one of the greatest depictions of war in film. Hitler hated it and sent Goebbels to disrupt his performances in Berlin with white mice and stink bombs. Today it is almost forgotten that the film was banned in Victoria from 1930 to 1941 for reasons of pacifism. In the same years, Remarque fled from the Nazis to the United States.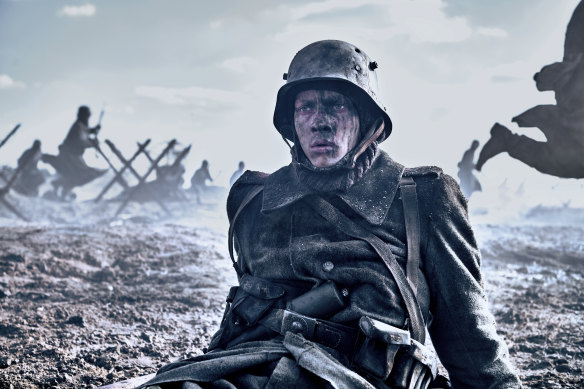 Pacifism is an interesting accusation. Remarque wrote at the beginning of the novel that it was "neither an accusation nor a confession – merely an attempt to give an account of the generation that was destroyed by the war – also of those who survived the shelling". Both left and right attacked it for being too anti-war, too pro-war, and too disrespectful to the glorious dead. No one involved in warfare liked it, but people loved it. The first edition sold 2 million copies.
This is the first film adaptation by a German director, which is significant since it is a book about Germans. If you've never read the book, perhaps it's enough that Edward Berger delivered a powerful anti-war film, with all the horror, bitterness, and heartache that Remarque's story demands. In fact, he did more. He adds things Remarque never wrote to bring the film in line with modern expectations. In doing so, Berger is fatally damaging his own work. His changes make it clear that he doesn't understand the book, nor does he care about its subtleties.
Milestone's version is famous for the reality and horror of its fight scenes. They were part of Steven Spielberg's inspiration for the first 20 minutes of The soldier James Ryan. The battles here are just as harrowing: filled with confusion, terror, and deadly happiness. When Paul Baumer and his schoolmates arrived in northern France in 1917, they went straight into battle. Most of them have overestimated their age, emboldened by bellicose schoolmasters ranting about the fatherland.
They are given no orientation, no infiltration through a silent sector, no hints on how to stay alive. One of Paul's officers tells him that he will be dead before daybreak. In fact, Paul (an uncanny feat by Felix Kammerer) survives almost two years.
At the end of 1918, the German high command realized that the war was lost. You must ask for peace. By then, most of Paul's friends will be dead. Those who remain are insane and half-starved. What keeps Paul going is his friendship with an older comrade, Katczinsky (Albrecht Schuch). 'Kat' keeps them both alive with his sly food scrounging and humor and wisdom.
https://www.smh.com.au/culture/movies/it-s-an-oscar-favourite-but-does-this-harrowing-war-film-deserve-the-hype-20230207-p5cikh.html?ref=rss&utm_medium=rss&utm_source=rss_culture The Best Picture nominee, All Quiet on the Western Front, was reviewed