The best part about euthanizing a baby? Adult lullabies
When you sit in the dark in the middle of the night and listen to lullabies, a certain fear creeps up on you that you might not be cool anymore. Whether I was ever cool is a matter of debate between my own memory and the memory of anyone who was actually there to see it. Also, I should clarify that the lullabies are played to calm a one year old. However, there was a time in my life when a combination of sleeping and a 1am lullaby would probably have been a very healthy choice.
The signs that my supposedly sharp edges have become blunt are noticeable everywhere. Musicians I thought were dangerous and borderline are now selling their wares at K-Mart. Her songs are used to discourage teenagers from hanging out at the mall. Bands are more likely to announce the death of their bass player than to release a new album or worse, put out a new album that makes you wish their bass player had just died and saved us all the trouble.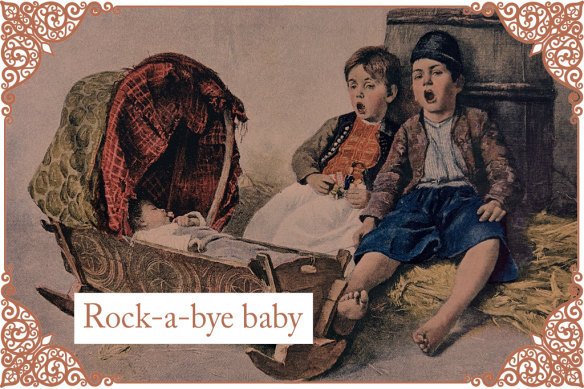 But the saddest sign surely comes from the lullabies themselves. It's not your father's lullabies we're hearing here, little girl. This is the new age lullaby genre marketed by millennial parents. A series of streaming-optimized albums that take the songs of your teenage years and reinterpret them in a gentle, soothing way. It's the handy new way to slowly try to impress all your flavors on a defenseless kid in the hopes they'll wake up with either a solid knowledge of Radiohead's back catalog or an opinion on exactly where Metallica crashed.
According to Spotify, the Rock a faraway baby! The series has more than 200,000 listeners monthly. It's probably fair to at least double that number, as the listening experience to these albums certainly exists as a dyad, the weary parents desperately trying to get their child to sleep and the indifferent child desperate for a pardon on their bedtime sentence asks.
Together we sit in the dark listening to lullabies by Outkast, Nirvana and other acts who would probably be appalled to know they've been reduced to this format. There's even a Lullaby Pitbull album for those who are lying with their kid and want to experience the feeling of pinging at a club you should have left an hour ago.
Suddenly I have to check to see if instrumental renditions of Kanye songs on wind chimes are also being scrapped. I find myself saying things like, "Woah, listen to them shred on that xylophone."
I don't know why I'm forced to pass my taste on to my child. It is certainly a curse, not a gift. Like the decision to give her an inherited condition. These were the songs that kept dad from being cool in high school, and now they can keep you from being cool in daycare. The best I can do is hope to act as a cautionary tale. If you listen to these things, you will end up like me. Wrong way, go back!
Which brings me to an important covenant in my marriage, a lie we both agreed to keep for the strength of our relationship and the preservation of our own sanity: They don't make music for children. I'm sorry, I would like to play a song about the wheels on the bus, but unfortunately no one has ever written a song about the wheels on the bus. Honestly, it's a boring subject for a song. You should be embarrassed for even asking. Oh yes, there used to be a band called The Wiggles, sure, but they went the route of Dorothy the Dinosaur. Yes, it's very sad. Unfortunately, their plane crashed once in the snow, they ran out of cold spaghetti and had to eat each other. Tragic story, best never to take up the topic again.
https://www.smh.com.au/culture/comedy/the-best-part-about-putting-a-baby-to-sleep-adult-lullabies-20221222-p5c89g.html?ref=rss&utm_medium=rss&utm_source=rss_culture The best part about euthanizing a baby? Adult lullabies