The beautification of the historic center of the West is a priority
The beautification of the Parramatta River Canal would be welcomed by most Sydneysiders ("Parramatta Banks on a River Phoenix," June 4). But if that were all, it would be a missed opportunity. The 730 meter long canal between the weirs of Marsden Street and Charles Street spans the former intertidal zone of the river. While there are always environmental reasons for removing the weirs, the Intertidal Zone is not a great city park. The Church Street Bridge forms an elegant arch over the river, but contributes to the CBD's flooding during extreme rains. Removing the Charles Street weir and lowering the river and park levels by several feet will allow ferries to reach the Riverside Theaters and drastically reduce the risk of flooding. Peter Egan, Mosman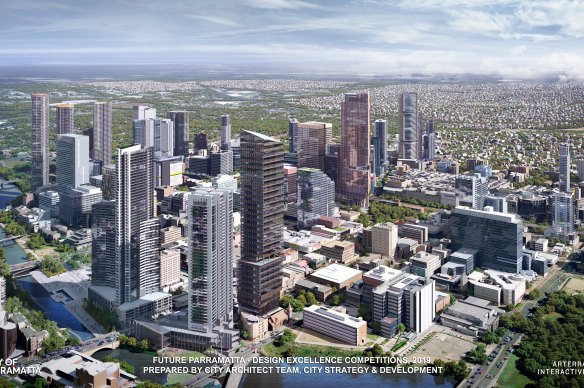 Um, what happens to this 'parrangaroo' when the tides rip through like they do after every torrential and increasingly frequent downpour in western Sydney? Meredith Williams, Northmead
Although Gail Connolly, CEO of Parramatta, wants the town to be "the Barangaroo of the West," has someone asked residents if they really want a high-rise casino to dominate their historic town? James Deli, Oatley
Build up
Parnell Palme McGuiness praises the merits of building quality developments in "desirable areas" to solve the housing crisis ("Win-Win Solution to the Housing Crisis," June 4). Everyone moves up a rung. This, of course, is known as trickle-down economics, and when I was in high school in the 1980s it was all the rage, and I thought it sounded brilliant. In 2023, the rich got richer and stopped sharing their wealth. In short, it was a disaster. With the population now doubling in my lifetime, this coveted living space will be overcrowded as the population more than doubles again in my lifetime. We will take another step backwards. Those who are currently championing the far-right economic policies of the 1980s, that is, endless population growth to solve our economic problems and heck with the climate, have to answer the following question: If the population doubles again, how do we solve our economic problems? ? It takes more than superficial slogans like "YIMBY" to get me back into the 1980s. Paul Davies, Crow's Nest
finger pointing
When I, as a traditionally trained and now retired doctor, reported on the advent of AI in medical diagnostics, I long lamented the disappearance of the traditional anamnesis and physical examination ("Second Opinion…", June 4). Of course, we should embrace the AI's touted superior capabilities, but we also need to ask ourselves who is responsible when the AI ​​gets it wrong. To whom will the patient make amends? Will doctors find themselves in the rather ridiculous position of being responsible for the mistakes of a supposedly superior authority? Everyone wants a more accurate diagnosis, but also wants to know who to contact if something goes wrong. David MacKintosh, Berkeley Vale
Koalas in danger
If the Greater Sydney Planning Principles are put into practice, they will face their ultimate test ("Koalas' Fate Depends on Development Decision," 4 June). Hardly any developer, large or small, does not boast of its "first-class sustainability quality". Even governments, state and local, are also promoting their respective sustainability branding.
The impending prospect of developing the last remaining forest beaches that will inevitably wipe out 300 to 500 chlamydia-free koalas just to build 3,300 homes on Sydney's growing urban fringes is absolutely anathema to any definition of decent urban design. If achieving a desirable quality of life is the consequence of sustainable development, then Gilead's brand has gone bad. Those concerned with Gilead should seriously consider the 600 public statements (testimonies) and the fate of endangered native fauna. Cleveland Rose, Dee Why
Mom is the right word
The "unfortunate loss of a glass door" to indoor skateboarding during lockdown isn't Daisy Turnbull's only misjudgment ("Parents, Are You Guilty of 'Sharing'?" June 4). Why on earth should she or anyone feel bad for not sharing photos of her kids? As she reminds us, there are no "private" groups online anyway. She asks how "we show our existence as parents" when we don't share our children's pictures online. Really? What a nonsense. Kerrie Wehbe, Blacktown
snow solution
Your correspondent quotes the Climate Council's research director, Martin Rice, as saying: "If we are to protect our winter sports, we must reduce greenhouse gas emissions. Otherwise, the popular ski season could come to an end" (Letters, June 4). Unfortunately, regardless of what Australia does to reduce greenhouse gases, that effort cannot be attributed to our climate alone, and with Australia's emissions being vanishingly small compared to other countries, the future of our ski season depends entirely on these big emitters make reductions on behalf of issuers by all of us. As an avid, albeit aging, skier, I can only hope they do. Peter Thornton, Killara
Submit a letter to The Sun Herald, email to Letters@smh.com.au. Click here for tips on submitting letters.
The Opinion newsletter is a weekly roundup of opinions that challenge, advocate and inform. Login here.