The artist reveals the madness of the creative process
THE ARTIST ★★★★
Everest Theater, Seymour Center
Thomas Monckton has been performing his circus-inspired, clownesque show The Artist since 2017, and it shows. Now making its final appearance at the Sydney Festival after a successful season at the Adelaide Festival, this physical theater performance has such ease it's easy to almost believe what Monckton is doing on stage.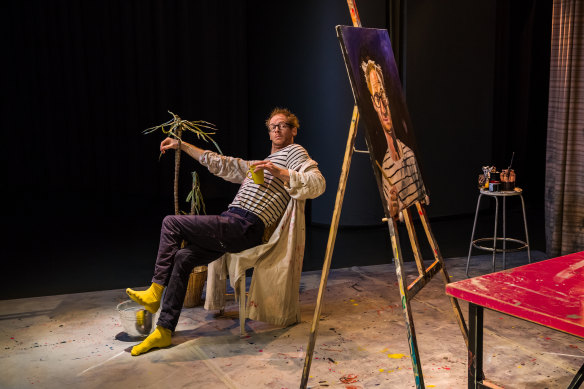 There he is, an uninspired painter trying to stop a leak in the ceiling from dripping into his cup of tea. There he is, pinning his sock to a canvas. Climb a closed ladder to reach a high shelf without stumbling when it tips over. Style a bowl of fruit for a still life and lose yourself in a quick round of daydreaming. Ping-pong balls back and forth with the audience, hitting back with the back of his painter's palette.
There he is, altering reality with new forms, gags upon gags, and amazing physical strength.
At just 60 minutes, the production is quick and smart enough to keep audiences engaged. Director Sanna Silvennoinen focuses on the miracle with Monckton: As The artist unfolds, reveals and revels in the sense of play sometimes found in the act of creation.
This is a finely tuned work developed by New Zealand-born Monckton and Silvennoinen as part of their work with Finnish company Circa Aero. The sparse stage design is reminiscent of an artist's studio in which at some point everything – even the plant in the corner – becomes art. Canvases are shown and repurposed into adorable sight jokes; Monckton could be on the ground, on a table, in the air, or somehow in a canvas at any time.
Monckton's Artist innovates, procrastinates, summons magic, loses his cool and finds it again with good-natured gaiety. At some point, the studio becomes a gallery, and Monckton's Artist becomes her patron, with an exaggeratedly erect posture and a snub nose.
https://www.smh.com.au/culture/theatre/the-artist-reveals-the-craziness-of-the-creative-process-20230119-p5cdqc.html?ref=rss&utm_medium=rss&utm_source=rss_culture The artist reveals the madness of the creative process