The agent behind the greats of women's sport
Rising Canadian Felix Auger-Aliassime is the latest player to whip Dunlop balls at the Australian Open.
Ousted defending champion Rafael Nadal was particularly scathing on the eve of the tournament, saying they were "lower quality" and not generating the same spin, while Stan Wawrinka agreed they lost "a lot of pop" after a couple of games.
Auger-Aliassime, another player who thrives on "live" tennis balls, said during his match on Wednesday, "I never complain about it…but the balls don't bounce." Novak Djokovic also has a theory that this year's balls are getting longer lead matches.
Players are making enough noise for Craig Tiley to notice, but nothing will change at this point, allowing the player who adapts best to potentially win the 2023 title.
AMERICAN REACHES MILESTONE
John Isner's serve is the main reason he climbed up to No. 8 and boasts a Wimbledon semifinal and two US Open quarterfinals on his extensive resume.
At 37, Isner is nearing the end of his stellar career—but he's still setting (or building) records.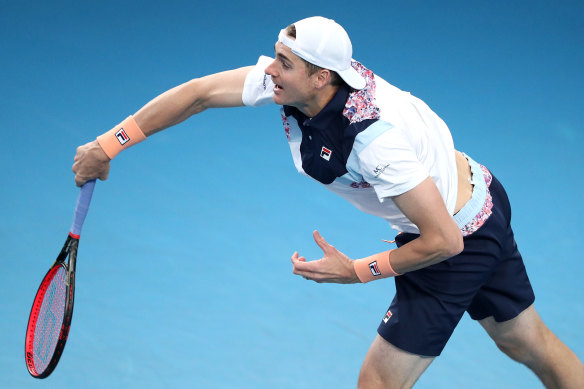 His rain-affected match against France's Adrian Mannarino was postponed on Tuesday night, but he had enough time to hit the 12 aces needed to reach 14,000 for his career.
Isner added two more to move to 14,002 before play was suspended, and that's a record tally since the ATP Tour began tracking the stat in 1991.
SWIATEK OK
Iga Swiatek produced one of the most dominant WTA seasons ever last year after her nemesis Ash Barty retired, so no one would have advised her to change anything.
But it seems the Pole has had enough of her pre-match playlist and is trying out some new tunes while chasing a first Australian Open title.
"Actually, I just changed my playlist before the match," revealed Swiatek after moving into the round of 32 on Wednesday.
"I've been listening to the same songs for two years, so it was tough, but it works.
"Hopefully these songs won't spoil my head."
KOOYONG KARMA
Anyone considering changing their preparation for next year's Australian Open should call Kooyong Classic Tournament Director Peter Johnston.
The popular exhibition event returned to Kooyong Lawn Tennis Club last week to rave reviews after a two-year COVID absence.
But there's more: 10 players who competed in Kooyong won their first round matches. Next came Australia's Alex de Minaur, Alexei Popyrin, Rinky Hijikata and Kim Birrell, as well as Andy Murray, Taylor Fritz, Grigor Dimitrov, Linda Fruhvirtova and Frances Tiafoe. American Tiafoe, meanwhile, has moved into the last 32.
Jannik Sinner, who is also in the third round, had planned to play at Kooyong but canceled due to a hip injury.
flare up
Greek title contender Maria Sakkari was unfazed by the youthful exuberance of Russian qualifier Diana Shnaider during her second-round match.
After recovering from 0-40 to equal in the second set by five points – and already bagging the first set via the number 6 – Schnaider acted like an 18-year-old, pumping her fist and screaming "C". Mon".
A frustrated Sakkari laughed, then angrily said to the chair umpire, "If she yells in my face one more time; I'll call the referee."
Sakkari had the last laugh and fought back to win 3-6 7-5 6-3. After the match, she commented that Schnaider "never did that again" and "that was very nice of her."
GREEN THUMB
Germany No. 12 Alex Zverev spent the second half of last year on the sidelines after suffering a serious ankle injury at the French Open which he says could spell the end of his career. Turns out he used the downtime to reflect on his carbon footprint.
The 25-year-old has worked with environmental consultancy Carbon Clarity to find that his travels along with his team are responsible for around 250 tonnes of CO2 emissions a year.
However, there are no plans to retire from the tour to plant trees. Instead, Zverev is asking tennis fans to walk or bike to games whenever possible, buy sustainable products and tell "everyone you know" about your eco-friendly choices at social events.
https://www.smh.com.au/sport/tennis/the-agent-behind-the-greats-of-women-s-sport-20230118-p5cdk7.html?ref=rss&utm_medium=rss&utm_source=rss_sport The agent behind the greats of women's sport