The affluent Sydney suburbs are resisting the construction of new homes
Wynne said local councils had already been stripped of planning powers.
"It would be great if the new state government spoke more with local communities about what types of development would be best for each area, rather than relying on developers to set the agenda," she said.
Hunters Hill Liberal Mayor Zac Miles said it is the state government and not local councils that should be held responsible for obstructing the construction of new homes.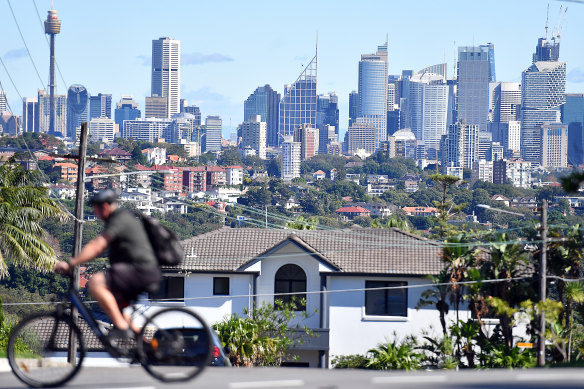 "The barriers that the state government keeps putting up when building new homes are ridiculous and hurt builders and homebuyers," he said.
Inner West Council Labor Mayor Darcy Byrne has blamed several state and federal governments for failing to build new social housing, which he says is causing downtown Sydney to lose its social diversity.
"The state government's development rating system, from which city councils are legally excluded, is cumbersome and slow," he said.
North Sydney Mayor Zoe Baker said that more than 2,000 new homes had been built along North Sydney's Pacific Highway without impacting housing affordability: "The opposite is true because the number and prices of apartments in this corridor are at an all-time high." ."
Baker said the North Sydney community area has lost more than 2,000 affordable beds over the past two decades, while the community has created 133 affordable housing.
"The state government should immediately allocate at least 30 percent of affordable housing as part of a rezoning to provide more height and density," she said.
Planning Secretary Paul Scully on Friday called the number of new homes being built across Sydney "incredibly unbalanced" and said the Minns Government has recognized that western Sydney cannot continue to bear the brunt of our growing population on its own.
Speaking at the Greater Parramatta and Olympic Peninsula conference, Scully also said western Sydney had 10 times more housing completions than Sydney's northern suburbs.
"This comes at a time when the whole of Greater Sydney needs to start increasing its housing supply so that we can build more houses, be closer to jobs and services and give everyone the opportunity to afford a home," he said .
Scully also told the Sydney Olympic Park conference that the government will spend $700 million each year on new roads, schools, hospitals and open spaces, and will allocate $1 billion over the next decade for communities to build new parks and build sports facilities.
Liberal planning spokesman Scott Farlow echoed the views of the Labor and Liberal mayors, who said Sydney's harbor and beachfront suburbs are among the city's most densely populated areas.
Loading
"Unlike the government, we are not interested in fomenting an East-West war and pitting Sydneysiders against each other," he said.
The Sun Herald Last year it was reported that two-thirds of Sydney councilors are expected to miss their targets for building new homes over the next five years.
Committee for Sydney chief executive Eamon Waterford said the Sydney housing crisis could not be solved by playing one part of the city against another, but by looking at areas that could accommodate more housing, say nearby from public transport.
But he said: "Sydney's West and South West have taken disproportionate amounts of housing and there is a lot of development fatigue and frustration in the region – and the reality is there is plenty of untapped capacity in the North and East."
The Morning Edition newsletter is our guide to the day's most important and interesting stories, analysis and insights. Login here.