The acclaimed Sun & Sea show brings the beach to City Hall
Grainyte says the narrative works "like a mosaic" as the cast sing gentle pop elegies about their lives and the changes in the natural world.
After seeing the show in Venice, a New York Times Critics called it "a masterpiece of culture in a changing climate" – a rare subject for art given its urgency.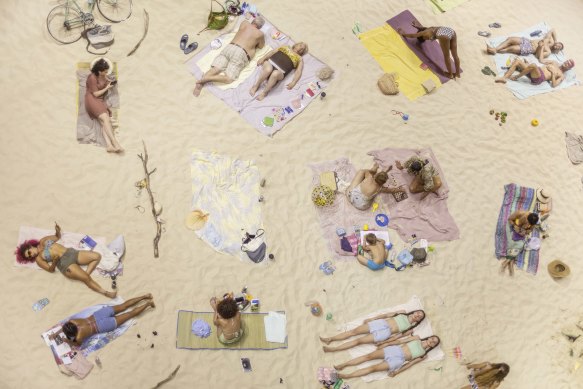 "Below us children were playing with buckets and shovels; dogs dozed and barked; and a cast of more than a dozen sang of delayed flights and exploding volcanoes to a sparse, persistently catchy electronic score," gushed the critic. "sun & sea remains one of the greatest performance achievements of the last 10 years: ironic, seductive and cunning in a way that reveals itself days or years later."
The show, which started in Lithuania in 2017, has now been shown in 25 cities in 18 countries. Venues included a Bauhaus swimming pool outside of Berlin, a warehouse in Piraeus, Greece, an 18th-century theater in Rome, the Museum of Contemporary Art in Los Angeles, and the Brooklyn Academy of Music in New York.
Loading
Running from January 6th to 8th, sun & sea continues the inventive use of City Hall after it was converted into a tennis court for Evonne Goolagong Cawley's show Sunshine Super Girl at the festival last year.
While the score plays on a continuous loop for an hour, guests enter every half hour and can stay as long as they like.
The more the trio learns about Australian culture, the more they think the show is perfect for Sydney.
According to Lapelyte, Lithuanians appreciate the beauty and wildness of the beach despite having a short summer.
"But in Australia it feels like life is all about the beach," she says.
A cultural guide to going out and making love in the city. Sign up for our Culture Fix newsletter here.
Email Garry Maddox at gmaddox@smh.com.au and follow him on Twitter at @gmaddox.
https://www.smh.com.au/culture/theatre/three-lithuanians-walk-into-town-hall-and-build-a-beach-20221214-p5c6fx.html?ref=rss&utm_medium=rss&utm_source=rss_culture The acclaimed Sun & Sea show brings the beach to City Hall