The 1928 Ford Model A that Alex Morris built
At the age of 11, Alex Morris slowly began sourcing parts for the hot rod he wanted to build. In his words, it's a 1928 Ford Model A on a '32 chassis with a lot of running gear and parts from the early 1930s to the 1950s. He bought parts individually through Auto-Jumbles and online enthusiasts.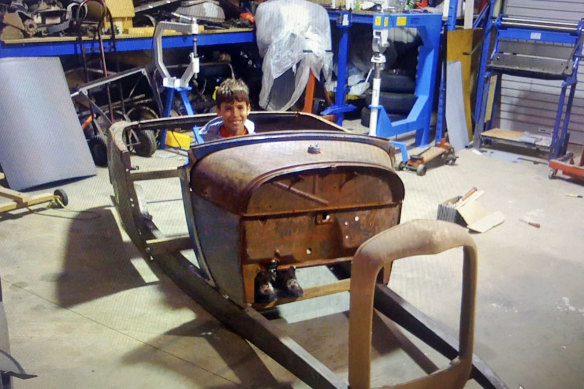 His car was among 60 cars put through its paces at the annual 'Rattle Trap' at Crowdy Head, south of Port Macquarie, organized by Drag-ens Hot Rod Club.
"It runs really well, the engine is quite hot, quite healthy with a five-speed manual. "It's pretty noisy on the beach," said the 22-year-old from the Central Coast.
"It's a wild gear. It's all street legal, it's definitely a head turner. There are not many cars of this type with the traditional 60s flair.
"I started collecting parts when I was about 11 and finished it last year. I did all the work at home with dad and some friends. The family grew up around hot rods so it was no wonder I got into it."
The costs? "I never really added it up. I'm not really sure… tens of thousands," said Morris, who starts a horticulture business. "In my head there are a thousand cars that I have to build. Now I'm halfway through a 1959 Ford Ranchero."
Rattle Trap is part Yankee heritage (only pre-1941 vehicles allowed) and part amateur mechanic with plenty of time wiped with an oily rag full of nostalgia. It's a family affair and you can even dress up.
Another rally participant, the "Belly Tank", is reminiscent of a classic Alfa Romeo racing car from the 1940s. The fuselage was originally a belly fuel tank that was attached to a WWII Lockheed P-38 Lightning fighter to increase flight endurance. "It's like sitting in a sardine can," says owner Bill Kranske.
Drag-ens vice president Andrew McClelland says it's all about remembering a time when the world was simpler.
Hot rodding began in the United States after soldiers with newly acquired skills returned to the cars they had left behind in the mid-1940s and decided to overhaul their performance and bodywork.
"Rather than just having a classic car at Rattle Trap, it's more about historical modifications from a bygone era," he says. "Back then they took a carburetor [carburettor] out and added two. It's all the time the speed gear that took an old chugger from maybe 60 horsepower to 85 horsepower [horsepower].
"It used to be all about racing on the beach, but we always say this isn't a speed event, there's no finish line as such, it's about being out there and doing what you used to do in Daytona or Bonneville has." "
Access to Rattle Trap is via an application – if you equip your early Ford with a modern Toyota engine with overhead camshafts instead of a side valve engine, the committee will reject you. The event is limited to 60 cars (mostly Model A Fords and Chevys) and 20 motorcycles (mostly US Army WLA Harleys and early Indians), giving everyone a chance at a few runs.
McClelland adds, "I can't say enough good things about MidCoast Council and the local town of Harrington. They welcome us with open arms, we fill every place in town."
Loading
Kranske of Port Macquarie says his aerodynamic "belly tank" car was built "from a heap of parts" in nine months with his son Warren, a diesel engineer. They bought the tank with a little "trading" at an army surplus store in Victoria.
"The engine is a 1936 Ford flathead V8 that's sat under a bench in a mechanic's shop in Kempsey for 40 years," he says. "We cleaned it up, launched it and it happened [operational] Oil pressure."
Adding to the mood of Rattle Trap, "People dress in period costume. I have a WWII mechanic's overalls and flight jacket and both my son and I love them. It's like time travel, you might say. The world was a very different place back then."
The next drag-ens event is the Valla Rod Run at Nambucca Heads on Saturday September 30th when 350 hot rods will take to the main street.
The Morning Edition newsletter is our guide to the day's most important and interesting stories, analysis and insights. Login here.