Texts from a woman about alleged sexual assaults were broadcast in court
Loading
Hayne was in Newcastle from Sydney for a weekend to coincide with the NRL Grand Final.
The night before the incident, the woman asked Hayne, "Will you be here tomorrow night?" to which he said, "No, I'm going back tomorrow." Cunneen said the woman said, "Stay one more night. I'm ruined [sad face] otherwise take me back, I'm totally serious and you know it".
She said the meeting between the two in the defendant's case, given the "tone" of the messages, "was always, to some extent, sexual."
Cunneen said the woman texted another man on September 30, 2018 to ask if he would come over, saying, "If we don't talk further, I'll say yes to Jarryd Haynes coming."
The man said, "OMG [three heart-eye emojis]' and 'Get me his signature baby,' to which the woman said he was 'awful'.
Cunneen said Hayne called the woman at 7.31pm and agreed to see her on the way back to Sydney. She said the woman sent her address and a kiss at 7:36 p.m., and a little later said, "Are you coming or not?" and "Where are you, fool?"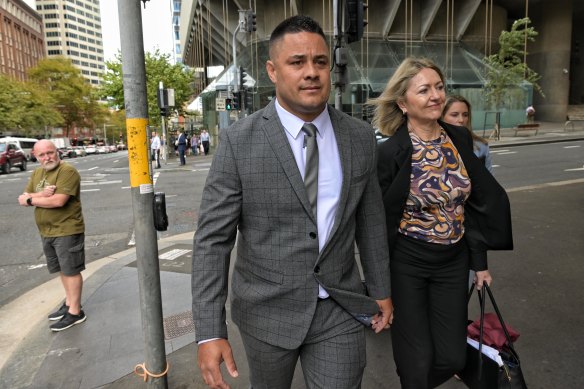 "The last three messages belong to the messages that were no longer on [her] phone when she turned it over to police in November [2018] when a complaint was eventually filed," Cunneen said.
The court heard Hayne called again at 8:48 p.m., arrived at 9:07 p.m. and left at 9:53 p.m. The woman then sent him two text messages.
One said: "I hurt so much".
The other side read: "I know I've talked so much about sex and stuff but I didn't want to do that after I knew the cab was waiting for you. I thought you at least stayed? I told my mom you had a nosebleed but I'm sitting here in my room crying because I feel weird."
Hayne replied, "Go to the doctor tomorrow."
Prosecutors said the woman texted a close friend that Hayne "had been really pushy, like he wanted to have sex, and I kept saying 'no'."
"He ended up getting his hand down there and taking off my pants. I was kind of scared and insecure… I wanted to, but I didn't either. He was so rough it got blood all over the bed from tearing my vagina," the woman wrote.
"I didn't want to do it…then I just didn't do it. I just feel like I'm letting it happen to me by not yelling at him."
The applicant's recorded evidence was heard in closed court on Tuesday. The process goes on.
The Morning Edition Newsletter is our guide to the day's most important and interesting stories, analysis and insights. Login here.
https://www.smh.com.au/national/nsw/woman-s-texts-about-alleged-sexual-assault-by-hayne-aired-in-court-20230313-p5crqv.html?ref=rss&utm_medium=rss&utm_source=rss_national_nsw Texts from a woman about alleged sexual assaults were broadcast in court