TEAM Atlassian donates Russian proceeds as protesters call for a full boycott
Australian software giant Atlassian will donate all future earnings from Russia to Ukrainian causes as it faces renewed pressure from activists to leave the country entirely.
Following internal and external anger in March, Atlassian announced it would halt new license sales to Russia, make humanitarian donations and cut licenses to organizations linked to the conflict in protest at President Vladimir Putin's illegal war.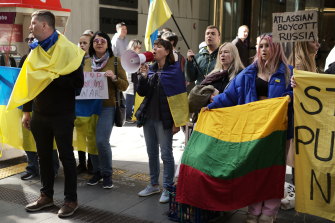 But the $56 billion company, which makes software for workplace collaboration, allowed ordinary Russian companies to renew existing subscriptions, arguing they were locked in a war they couldn't stop.
This sparked a protest on Tuesday outside an Atlassian office in central Sydney by a collective of Ukrainian-Australian activists who argue that even Atlassian's limited presence in Russia is contributing to the war.
One activist, who asked to be known only as Anton V for fear of surveillance by the Russian Embassy, ​​said: "Enabling companies like Atlassian while operating in Russia [the war's] Continuation."
He said Atlassian products make Russians work and pay taxes, which aids the war, and that a draconian new law, originally approved by Russia's parliament, will allow the state to coerce seemingly harmless Atlassian-licensed companies who support invasion.
Pressure from the same group, along with proxies from the Ukrainian embassy, ​​helped another leading Australian tech company, graphic design platform Canva, block users in Russia entirely.
An Atlassian spokeswoman said the company condemned the Russian government's actions in March and has since taken several additional steps to support Ukraine that came ahead of activist pressure.
"Following a direct request from the Ukrainian government, we have donated licenses of Atlassian software to support their humanitarian and relief efforts," the spokeswoman said. "Atlassian will also donate the equivalent of all anticipated proceeds from customers in Russia and Belarus, starting with an initial donation of $5 million to causes directly benefiting the people of Ukraine."
https://www.smh.com.au/technology/atlassian-to-donate-russian-revenue-as-ukrainian-protestors-demand-full-boycott-20220712-p5b0zv.html?ref=rss&utm_medium=rss&utm_source=rss_technology TEAM Atlassian donates Russian proceeds as protesters call for a full boycott