Sydney's streets are being transformed with al fresco dining and more public spaces
George Street in the Rocks is becoming a permanent outdoor pedestrian and dining area as the State Government presses ahead with attempts to redesign Sydney's public spaces, following a series of successful revitalization programs that have revitalized the city's streets since the pandemic.
Foot traffic in the heritage district has reached 90 percent of pre-COVID-19 levels, despite fewer international tourists, but business turnover is up more than 15 percent from previous figures as al fresco drinking and dining options have expanded along the street.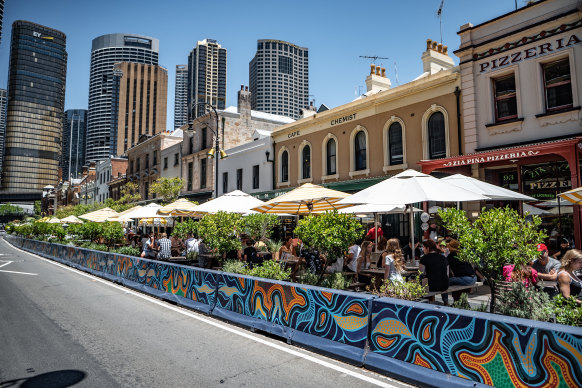 The government poured $66 million into street-based programs in 112 community areas between May 2020 and December 2022 — including the Alfresco Dining Package and the Streets as Common Places initiative — in hopes of revitalizing the city and businesses through years to help the insecurity.
While the CBD office occupancy rate is still just 59 per cent and some of Sydney's high streets are grappling with zombie shopfronts, a report by Transport for NSW for the end of the year has highlighted the programme's success: more than half a million People across the state participated in various initiatives while the equivalent of 4000 parking spaces were returned to the public.
His analysis also estimates that 13,500 people were involved in more than 300 local projects, with 2,800 hospitality workers and 3,300 creative workers.
Kiersten Fishburn, the Department of Transport's assistant secretary for its new towns and active transport sector, said the assessment was "proof that we can and should rethink how our towns, streets and open spaces can look".
Loading
The Shared Street program, for example, prompted city councils to test street closures, add public art, remodel parking lots, introduce bike lanes, widen sidewalks, and green their spaces. Ninety percent of these projects later retained key elements.
At Parramatta, Phillip Lane was enhanced over eight weekends with lighting, plants, live music and additional dining areas, which the participating companies said contributed 30 percent to sales and enabled them to hire up to two additional staff on event days. The Council will seek to make some of these factors permanent.
https://www.smh.com.au/national/nsw/sydney-s-streets-face-revamp-with-outdoor-dining-more-public-spaces-20221228-p5c936.html?ref=rss&utm_medium=rss&utm_source=rss_national_nsw Sydney's streets are being transformed with al fresco dining and more public spaces