Sydney's Oxford Street faces an identity crisis as the crowd changes and the cost of living falls
It's 1:30 am in the outdoor "garbage alley" of gay nightclub ARQ, and Jack Schmidt has just gotten on the last train into town. Most of his friends aren't out because it's Saturday and you have to cover for Saturday night.
This is a deal breaker. "It's just too expensive," says Schmidt, 26. "The cost of living has gone up. Going out is a luxury. A lot of gay people are really fucking poor."
A few years ago, before COVID and certainly before the lockout laws, this club would have been full. But on a clear Saturday evening in early June, it's almost empty.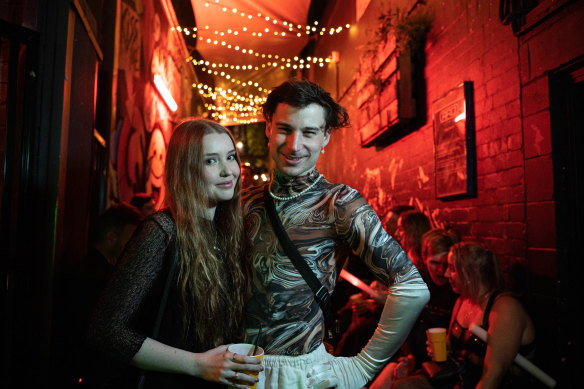 That's not the case everywhere – a few blocks down Oxford Street, Club Universal still has a line outside the club, and other venues are busy too. But as 20-year-old James Campton says, the Strip has "gone silent" since the summer.
Sydney's successful WorldPride festival should breathe new life into the city's LGBTQ epicenter after a torrid decade. Instead, Oxford Street is suffering from an identity crisis caused by an influx of straight club-goers, creating tensions with the queer community and changing nightlife trends and behaviors – particularly among Generation Z.
The death of Oxford Street has often been announced ahead of time. The question for business owners, party-goers, policymakers and the queer community isn't so much whether this iconic slice of Sydney will survive – it always does – but rather how it can thrive in an era of tighter budgets and diverse tastes.
Security is another, more immediate issue. In April, former reality TV contestant David Subritzky was called a "faggot" after an altercation at a kebab shop and was left with a bloodied lip. The police were called. There have been numerous instances of homophobic abuse, particularly towards drag queens.
On Tuesday night, the issue was raised at a meeting of business owners, politicians, police officers and community members at the historic Stonewall Hotel.
Local gay MP Alex Greenwich said he was deeply concerned by the number of homophobic, transphobic and dragphobia incidents reported to him each week. "In 2023 we shouldn't have to deal with something like this on Oxford Street," he said. "It is important that we make efforts to eradicate it."
At the meeting, operators were invited to sign a Pride Business Charter drafted by Sydney City Council, calling on Oxford Street business owners to celebrate and share LGBTQ history and culture, create welcoming and inclusive spaces and ensure LGBTQ people do so kept safe.
Many blame the opening of a new straight nightclub, Noir, almost a year ago and the crowd it draws. There is an online petition detailing a number of alleged incidents and calling for the club's license to be revoked.
In a recent incident, drag queen Mu Lan said she was grabbed by the crotch by a customer at Noir when she was meeting up with friends there after finishing work at another club.
"That's the problem: we should feel safe in every single place on the street because we're not safe anywhere else in the city but this street," Lan said. "This is our home. If we don't feel safe here, where should we go?"
Noir owner Ronny Dubé attended Tuesday's meeting and said he would sign the charter. He acknowledged the club's arrival has created some tension in the Oxford Street ecosystem, but said he and his staff have a zero-tolerance approach to discrimination.
"We're doing everything we can to mitigate these problems that inevitably arise when a venue attracts a heterosexual crowd into an LGBTQ-dominated neighborhood," he said.
He has hired extra security to look out for anti-social behavior and the club also works with the police. "Whenever there is an opportunity for us to get better, we will get better."
With venues in Kings Cross and The Star's Marquee nightclub shutting down, LGBTQ venues on Oxford Street are also facing an influx of guests from outside the community. Universal, probably the area's most popular club, recently banned stag and hen parties from the venue.
But security is only one piece of the puzzle; The cost of living (and partying) keeps people staying home. Good luck getting a drink under $10, and cocktail prices now start with a "2." Few young people can afford to live downtown anymore, and poor public transport at night means they face long and expensive Uber rides home.
One nightclub on the Strip, Nevermind, opened just before WorldPride but lasted just 62 days before closing "temporarily" due to the street's quiet atmosphere in the run-up to winter; ARQ also recently hibernated Thursday nights for the same reasons.
Charlotte Hogan, 23, works behind the bar at Bitter Phew on Oxford Street. She identifies as LGBTQ but does not generally go to the area with her friends, preferring private events, warehouse parties and underground raves. That way, they don't have to deal with overzealous security guards, empty venues at 3am, or crazy drink prices.
"I don't think anyone my age can afford to go out in Sydney," says Hogan. "My rent went up by over 20 percent… I think that's why a lot of us prefer to go to underground parties where you can buy BYO."
Venues are starting to respond. Poof Doof, a weekly Saturday party at Kinselas, has slashed drink prices, while Universal this week announced it would slash all drinks by 40 percent between 8pm and 9:30pm Monday through Thursday.
"Tariffs are going up and the cost of living is going up [have] "This has all bitten us and we know those who go out are becoming increasingly rare," the club said. "We wanted to make a great night a little more accessible."
Loading
Then there's a more existential question: have nightclubs just gone out of style? Research shows that Gen Z is certainly drinking less. Many people herald Respondents were bored with the traditional formula of Oxford Street venues, which have done little to change their approach in the wake of the COVID crisis.
Gary Nunn, a journalist and occasional party host, recently tried to do something different by hosting a Broadway musical-themed club night at the Oxford Hotel. The Sydney debut was a success and this weekend he's bringing it to Melbourne.
"We saw people we would normally never see [out]' says Nunn. "It can really work to offer something new and different … People just have to stop complaining about it and go ahead and do it."
Jack Ward, 22, says Sydney nightlife can be a chore and that clubbing isn't everything. "I think we've realized over the course of the pandemic that there are more ways to enjoy yourself," he says. "Maybe there are things to do in pubs, there are always things to do virtually, or you can just stay at home."
"House partying made its return after lockdowns were lifted, particularly in Sydney. People just enjoy the fact that not everything has to be out and you can still have fun."
Universal Hotels chief operating officer Richie Haines said the queer community must fight to protect the borough and keep it safe.
"It's not up to anyone else to do it for us. We have to do it for ourselves, together with the council, the state government, the police and everyone involved," he said.
"But it's not something we can sit back and do idly. We must take action to ensure this district remains queer and safe. "
Get the breaking news of the day, entertainment ideas and a long read to enjoy. Sign up for the Evening Edition newsletter here.