Sydney's Next Development Goldmine? The landowners are vying to transform Metro West
In Camellia, developer Billbergia owns 10 acres of land between Grand Avenue, the light rail line and the Parramatta River that will form the new downtown area. The company that had called the Camellia Landowners Alliance to lobby for an underground station on the site was developing Wentworth Point and Rhodes a few miles to the east.
Billbergia sold a contaminated 14-acre property at 6 Grand Avenue to the New South Wales government for $53.5 million in 2016, having bought it seven months earlier for $38.15 million. The appraiser-general estimated the site at $15.5 million at the time.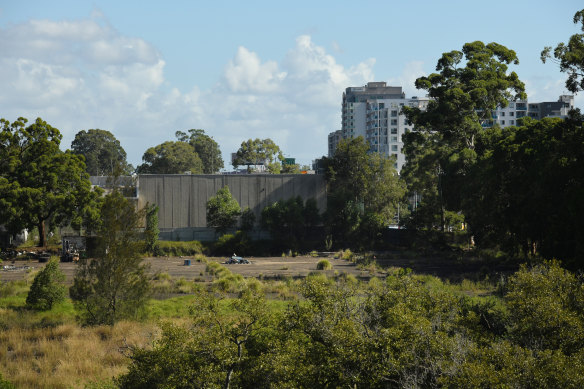 If that herald When questions were raised as part of an inquiry in 2020, then Transport Secretary Andrew Constance asked the Comptroller to investigate. The result was a scathing report stating that Transport had screwed up the process and corruption could not be ruled out. Constance called it "damn unacceptable" and Daniel Mookhey – then Labor Party Finance Spokesman and now Treasurer – said: "Heads need to roll".
West of the Billbergia property, across the light rail line, is a 15-acre property owned by Abacus Property Group, which it acquired from project developer Charbel "Charlie" Demian. The heavily contaminated site was formerly the James Hardie asbestos factory.
Prior to the government's 'placement strategy', Demian failed to obtain approval to build 3,200 houses in towers up to 40 stories on the site before the land was divested. Abacus paid $100 million to acquire the Camellia property and 82-acre Riverlands golf course in Milperra.
East of the proposed downtown area is another five-acre tract, Rosehill Business Park, which was sold by GPT to NashCap and BlackRock last year for $143.6 million.
It's not just about private interests. To the south is Rosehill Racecourse, owned by the Australian Turf Club, a quasi-public not-for-profit organization reporting to Racing NSW and the Racing Minister. The ATC also owns the smaller "circus lot" north of Grand Avenue and the Rosehill Bowling Club across James Ruse Drive – totaling more than 15 acres.
As part of the Camellia-Rosehill Place strategy, racing will continue at Rosehill, but the site will also take on a new role as a mixed-use entertainment district with an "18-hour economy" that will include restaurants and small bars, live music and the arts offers and culture. The ATC supports the strategy.
Then there's Western Sydney University, whose main campus is in Parramatta, across the river to the north in Rydalmere. WSU has long advocated moving Metro West there. Rydalmere had originally been shortlisted for the construction of an underground station, but was rejected because it was far off the proposed route and Constance wanted a 20-minute travel time between Sydney and Parramatta.
Pro-Vice-Chancellor Andy Marks led the university's campaign and has returned to the role after the subway route appears to be back at stake. He argued that the current direction does not reflect the government's policy of redistributing jobs to Sydney's west.
South of the racecourse, industrial real estate group Goodman owns 50 acres on Shirley Street in Rosehill and the Silverwater Distribution Center and Newington Business Park across the Duck River in Silverwater. Harvey Norman also owns four acres of land in Silverwater.
Many of the most prominent public voices in the Metro West debate run organizations representing landowners. Billbergia, ATC and WSU are all members of the Business Western Sydney chamber, headed by former NSW Labor housing minister David Borger, who argues a station in Camellia is "a no-brainer". The Chamber has many other members with diverse views and interests, including the Sydney Olympic Park Authority, Parramatta Council and Western Sydney Airport.
ATC and WSU are also members of the Western Sydney Leadership Dialogue, a think tank led by Christopher Brown. He also owns the lobbying firm Taylor Street Advisory. While the NSW Lobbyists Register cites Goodman, Walker Corp and ATC as historic clients, Brown says none are active. He argues that Camellia is too contaminated for a station and that Silverwater is a better option because it is on the current route and changing route "again" would be wasteful.
The Committee for Sydney, a lobby group and think tank, has also called for more stations and more housing along the tube, but not if it causes lengthy delays. Organization members include Billbergia, WSU, ATC, Transport for NSW, Mirvac, Charter Hall and many others.
George Williams, law professor and deputy vice-chancellor at the University of NSW and director of the Center for Public Integrity, said the multitude of stakeholders showed that a robust process was needed to assess the merits of any changes to Metro West.
"You always have to ask questions about what people's interests are and whether there are multiple interests at play," he said. "With a development of this magnitude, it's no surprise that there are many self-interests, and these may not always align with the public interest."
The Morning Edition newsletter is our guide to the day's most important and interesting stories, analysis and insights. Login here.