Sydney will host the world's largest space event, the International Astronautical Congress, in 2025
Sydney has bested four other cities to host the world's largest space congress in 2025 in what bid organizers described as a surprise victory over well-funded competitors.
The International Astronautical Congress typically attracts more than 6000 participants from the global space community, including governments, industry, academia and academia.
Organizers said Jeff Bezos' aerospace company Blue Origin threw its support behind Sydney's bid and helped secure victory over main rivals Riyadh, capital of Saudi Arabia, as well as Beijing, Bangkok and Istanbul.
This year's conference, held in Paris, featured an intense two-hour debate to determine the host of 2025, while highlighting Saudi Arabia's long history of human rights abuses.
Australian Space Agency head Enrico Palermo said hosting the congress was "a unique opportunity to show how far Australia has come as a space nation" and would create important opportunities for local industry.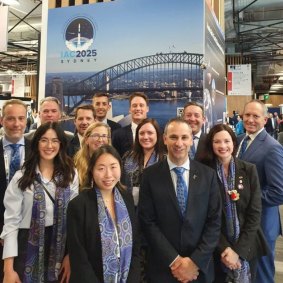 "It will help us excite a new generation of Aussies about the possibilities of space and highlight its importance in tackling some of our biggest challenges," he said.
Space Industry Association of Australia chief executive James Brown said the global space community had firmly decided that "Australia is the future of space."
"We look forward to hosting the world's most exciting industry in Australia's most exciting city," he said from Paris. "Space is critical to daily life, business and security and Australians are at the forefront of the global space industry."
Several former politicians were involved in winning the application. Married to Malcolm Turnbull's daughter Daisy, Brown was himself a contender for various Liberal seats, including a vacancy in the NSW Senate in 2019.
https://www.smh.com.au/national/nsw/sydney-to-host-world-s-biggest-space-event-in-2025-20220923-p5bkhp.html?ref=rss&utm_medium=rss&utm_source=rss_national_nsw Sydney will host the world's largest space event, the International Astronautical Congress, in 2025