Sydney offices designed to make workers happy
It's hard to imagine that the run-down blocks southwest of the main train station will become the engine room of the economy of the future. Filled with pawnshops and massage parlors, it's a place few frequent except for those once buried nearby in Sydney's oldest cemetery.
Attracting the world's brightest minds to work at Sydney's new $3 billion Central Place, at the heart of the city's Tech Central innovation hub, will require transcending the area's reputation and employees' attachment to their screens.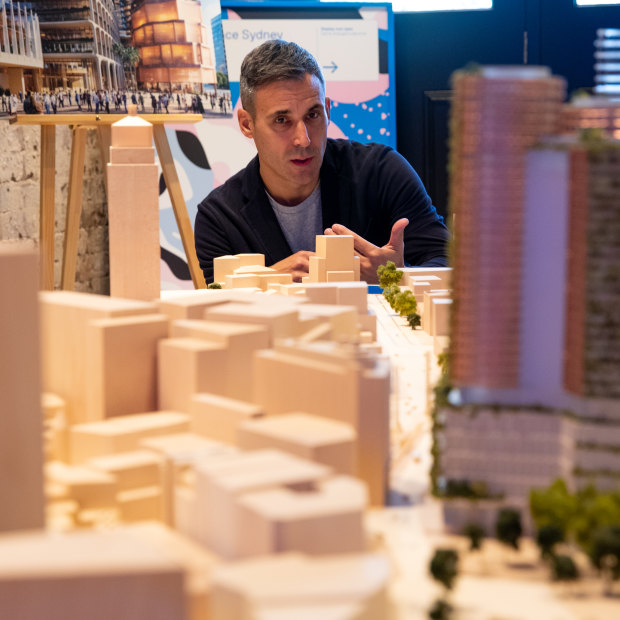 Architect Scott Duncan, a partner at Skidmore Owings and Merrill (SOM), says they want to "create experiences that people can't have at home or online." We compete with the screen, which is an incredibly powerful magnet for our attention."
SOM is working with Australian architects Fender Katsalidis to transform the 9,632m² site adjacent to the state's busiest public transport hub, Central Station, into a hotbed of smart people and businesses.
"The commute is an effort, it's an effort [leave home]and we need to overcome that reluctance," Duncan said at a Property Council of Australia conference.
Kimberley Jackson, project manager for Central Place Sydney, which is being developed by Frasers Property Australia with Dexus, says the new towers – phase one due for completion by 2027 – will offer unconventional and flexible corporate office space.
Compared to buildings of 10 or 20 years ago, it was "sustainability on steroids" that would set a new benchmark for commercial developments.
Prospective renters told Jackson that their employees didn't like being "surrounded by suits." They didn't want to leave the office feeling like an "outsider" as they experienced at the north end of the CBD.
About 15,000 employees are expected to work in Central Place, adjacent to the derelict Henry Deane Plaza, and next to which future neighbors Toga and Atlassian will build offices for an additional 11,000 employees. These developments account for more than half of Tech Central's $10 billion in committed projects.
Matthew Proft, District Manager at the University of Technology Sydney, says the area's mission is "to bring together the brightest minds to solve the big challenges facing our society and develop the technologies that will power the future".
The target group were companies from the fields of quantum computing, digital health, robotics, gaming, cyber security, artificial intelligence and companies from the creative industries. Already $5 billion of Australian venture capital has migrated to nearby Surry Hills.
"It is this combination of capital, talent and entrepreneurship that makes the Tech Central space so unique and a key catalyst for real jobs for the future," says Prof.
As the economy turns away from the old coal-powered industries, the economies of the future will emerge in this area, says Eamon Waterford, executive director of the Sydney Committee.
Whether it would be successful depended on the talent. "Do you have the best people? are you the smartest Do smart people want to work there?' said Waterford. (And the availability of on-site housing, he added.)
To lure them in, Central Place's features read like a wish list for anyone wanting to work in a sustainable building.
Fancy some fresh air? About a sixth of Central Place's 133,500 square feet will be naturally ventilated.
Would you like to work in a sustainable place where you can brag? The black soldier fly larvae in the basement will turn some of the 15,000 liters a day of food waste and biodegradable packaging into a low-carbon compost called Frass. Dead flies are processed into animal feed.
Don't want to leave your dog at home? Don't be afraid of booms. You can leave your pet with a sitter in the office during the day.
Want to experience your new office before it's built? A The fly-through data arena – utilizing the latest gaming technology – at UTS offers prospective tenants a 360-degree experience of the view from above or from the alleys. Tip: Take a seasickness pill before you set sail.
Would you like to wear your building's colors when playing on the net basketball court in the building's Skygardens? There is a shop for that. It sells pink and turquoise baseball shoes, balls and T-shirts in the colors of the settlement.
Like your colleagues? Or not? The building's offices will have internal cafes for employees to meet with friends and meditation rooms to escape from.
With their curved facades and gardens, these skyscrapers were very different from the typical office buildings of a generation, says Philip Oldfield, a professor of architecture at the University of NSW.
Back then, an efficient footprint was replicated about 40 times around a central core and encased in glass, said Oldfield, an expert on high-rise buildings and sustainability. "Now there is a real examination of social and community aspects. And you have to provide something you can't do at home."
Back then, Oldfield says, nobody (except the bosses) had access to light and sight.
In 2008, a study of the economics of high-rise buildings found that the lifetime cost of building and maintaining a block accounted for 10 percent of the total cost, compared with 85 percent spent on employee salaries.
Developers and employers realized that spending more money on designing a building reduced absenteeism and sickness and retained valuable employees.
Brookings Institute innovation hub experts Bruce Katz and Julie Wagner say that historically, many innovative companies like Bill Gates's started in garages before moving to isolated locations like Microsoft's in Oregon.
To facilitate impromptu encounters, places like Tech Central are now located where employees eat, sleep and live, often in older, seedy parts of the city. They're located near public transportation, run on clean energy, are digital-ready, and run on caffeine, they say.
Sydney's Tech Central's proximity to cafes, cycling students, art galleries such as White Rabbit and old warehouses means it's close to important institutions and innovative businesses, and is likely to be a draw for companies that see themselves as part of the future rather than a part of the old-fashioned past.
Central Place was approved by the City of Sydney last October and will feature three high-rise 'rubber-shaped' towers. Despite the reputation of its architects as ultra-talls, they are nowhere near the tallest in Sydney. SOM designed the world's tallest building, the 828-metre Burj Khalifa in Dubai, while Fender Katsilidis designed the second tallest building, the 600-metre Merdeka in Malaysia.
Originally, the architects had proposed two rectangular L-shaped blocks.
After criticism that the development was too dense and overwhelmed the historic structure of the older buildings near Central Station, Duncan said they split the mass into what he calls a sculpted mass of three curved blocks.
Central Place's North Tower is 148 meters tall, 36 stories tall, making it more than 100 meters shorter than Sydney's tallest office building, the Salesforce Tower on Circular Quay.
The south tower was divided into two parts: a 33-story south-east tower and a 38-story south-west tower.
Loading
Duncan says the development on the west side of the city would bring more vibrancy to the city, as commuters and employees would stream through the open spaces and alleyways.
A multi-purpose civic space called the "Connector" was added in response to City Council concerns about the need to attract people to the new lanes. The design comes from the architect Kim Bridgland, a director of the Edition Office in Melbourne.
The three towers are clad in brick to the podium and are of the same height as the connector to match the historic buildings nearby.
A temporary building called the Pavilion will provide meeting space and a tree and shrub nursery for the development. Ultimately it will be demolished to make way for access to the new track deck where future office space and housing will be built on the tracks.
Duncan says the building's design reduced the need for air conditioning. Show the herald During a visit to Australia in May, when he was creating a scale model of the development, Duncan said the shape of the smart awnings was derived using an algorithm to block direct sunlight while still retaining views.
"We examined a million iterations," he said. "But in order to have a maintainable passive design over the decades, most of the work has been done with fixed shading, the deepest in the west, which gradually shallows as the angle changes."
The Morning Edition newsletter is our guide to the day's most important and interesting stories, analysis and insights. Login here.