Sydney marine archaeologist recalls close contact with a ghost net
"Just watch the bubbles," Jateff's companion, Mike deGruy, told her. "If they're still going up, so are we."
Loading
Jateff made three more dives. The crew sent state-of-the-art remote-controlled reconnaissance vehicles into the wreck through a shaft that once housed the passenger ship's grand staircase to collect groundbreaking footage and data, and scientists conducted microbiological tests. They explored parts of the wreck not seen since 1912.
Jateff's journey was part of that Last secrets of the Titanic Expedition led by filmmaker James Cameron. The expedition sailed from St. Johns, Newfoundland – the same town where OceanGate's surface ship departed – 370 kilometers from the wreck.
As Jateff and her companions descended to the site, they watched through tiny viewports as the blue water turned black as they progressed past the mesopelagic zone at a depth of 1,000 meters. No light reaches beyond this point.
Styrofoam cups in a bag the crew had attached to the outside of the submersible were crushed to one-eighth of their original size as 400 atmospheres of pressure pushed down on the sub (equivalent to 2,500 kilograms of force applied to every square inch). ).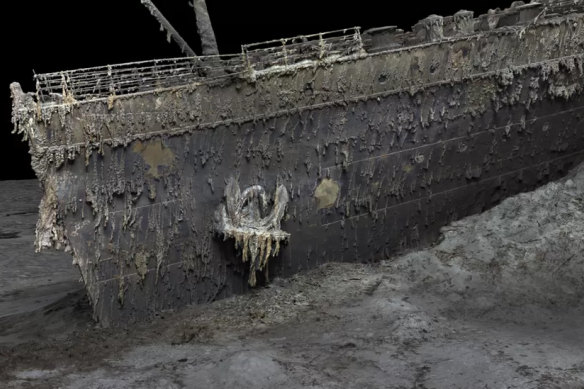 "It looked surreal," she recalled in a blog post years later. "With nothing more than the sandy seabed spread out in front of us, my tiny viewport was suddenly filled with the side of a mammoth ship. The steel hull that extends beyond us and surrounds us."
Jateff is interested in ships that can explore the ocean without a crew. The Maritime Museum has just acquired a prototype autonomous surface ship, and Jateff is looking to acquire more.
"I think one of the most interesting recent developments is the increasing use of autonomous ships to patrol our oceans, which is more efficient and economical," she said.
Loading
"One of the biggest challenges for researchers today is that only about 25 percent of the ocean has been mapped at high resolution, which means in some areas we still have very little idea of ​​what's down there."
The Nippon Foundation-GEBCO Seabed 2030 Project has set itself the goal of mapping the entire seabed in high resolution by 2030 and making the data freely available.
"The completion of this project will go a long way in providing researchers — including marine archaeologists — with accurate data to better understand and care for our one ocean," Jateff said.
The Morning Edition newsletter is our guide to the day's most important and interesting stories, analysis and insights. Login here.