Sydney FC beat ten-man Wanderers in a fiery derby
Everything seemed to be going so well for Western Sydney Wanderers this season, but football, like life, has a way of slapping you in the face when you least expect it – just ask Yeni Ngbakoto, or actually Paulo Retre.
Three months after Sydney FC's home win in the last Sydney A-League derby at the new Allianz Stadium, they found sweet revenge with a spiteful 1-0 win at Parramatta on Saturday night, where Ngbakoto's dismissal was the talk of the second half for an open slap on Retre.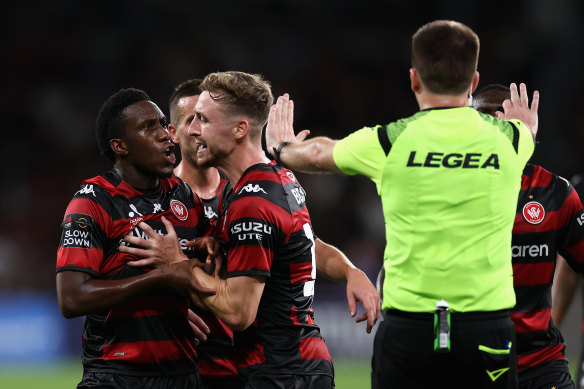 The Sky Blues were trying to take a corner while Retre was down and clutching his face when referee Adam Kersey was called to the touchline by VAR moments earlier to review an incident in backplay. Ngbakoto and Retre had been jostling for their position when the former delivered a rather blunt slap to the latter's face.
Kersey returned with a straight red card for the former Congo DR international, which seemed fair enough, but he was so outraged that his team-mates had to pull him away from the referee and lure him off the pitch with 25 minutes remaining.
Wanderers, reduced to 10 men by that decision but all breathing fire, thought they had found an answer to Sydney's stunning opener from Max Burgess in the 16th minute. But even that glimmer of hope was smothered by the VAR, who spotted substitute Thomas Beadling using his arm to control an air ball which he brought down and sent past Socceroo Andrew Redmayne.
Not much else went well for Western Sydney aside from the Red and Black Bloc's unveiling of a spectacular pre-game tifos depicting Freddy Krueger (obviously a secret Wanderers fan) hovering his talons menacingly over the Sydney Opera House – a symbol of the "white collar" eastern suburbs, the so-called enemy of the "downtrodden" people of the West, as Marko Rudan described his club's support base during the week.
It was a brilliant banner. Unfortunately for the home fans, that was as visually stimulating as CommBank Stadium. Their much-vaunted stars didn't bring any real attacking momentum well into the second half, and even then it wasn't much.
In contrast, Sydney FC started wild and then eased off as the game progressed. But crucially they had something to hold on to, which Burgess delivered with his Wonderstrike from the top of the box.
https://www.smh.com.au/sport/soccer/slap-in-the-face-sydney-fc-take-spoils-over-10-man-wanderers-in-fiery-derby-20230211-p5cjs0.html?ref=rss&utm_medium=rss&utm_source=rss_sport Sydney FC beat ten-man Wanderers in a fiery derby