Sydney doctor Peter Alexakis, who inherited $24 million from a patient, has been found guilty of misconduct
A Strathfield doctor who fought the Salvation Army in the Supreme Court and received a $24 million inheritance from a lonely patient was found guilty of misconduct and charged with his "stupid" and "suspicious" behavior warning sentenced.
The general practitioner Dr. Peter Alexakis was found guilty of professional misconduct and unsatisfactory professional conduct this week before the NSW Civil and Administrative Tribunal (NCAT) after the Health Care Complaints Commission (HCCC) brought the case.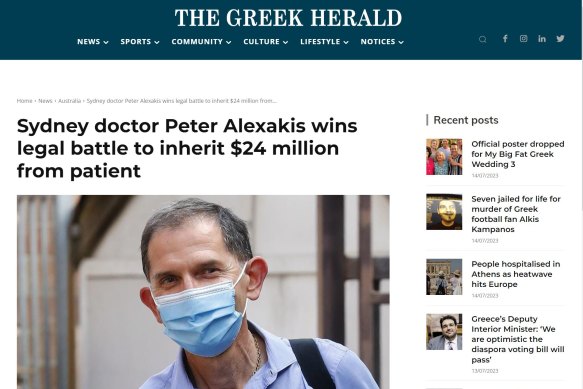 Patient B, who cannot be named for legal reasons, left the doctor $24 million of his $27 million estate — including ownership of his $3 million Strathfield home — in two wills, the three months before his death in 2017. The new wills were drawn up by the Alexakis family attorney.
The Salvation Army was the original beneficiary of Patient B's legacy, alongside a former business partner and an acquaintance. The trio, who challenged Patient B's will in the New South Wales Supreme Court in May this year, alleged the GP had abused his power and cheating, but ultimately the group was unsuccessful.
The HCCC claimed that Alexakis visited the sick patient 92 times, or almost daily, in the months leading up to the execution of the will and that he developed a "friendship" with the patient in order to exploit him for financial gain. Patient B was 83 years old when he died.
While the court found that the visits "were disproportionate to professional or clinical purposes" and "blurred the lines of the doctor-patient relationship," there was insufficient evidence that Patient B had been tampered with to make his will change. Patient B was effectively a recluse with no family or spouse, the court found.
"In the circumstances revealed by the evidence, the court is entitled to be suspicious [Alexakis'] intentions. [Alexakis] was foolish or naïve in not imagining that patient B might have provided for him in his will," the court wrote.
However, it said, "We cannot determine that it…was performed, in whole or in part, for the purpose of obtaining financial benefit by being named in Patient B's will." It may have been so, but that is a question the guess."
The court found that Alexakis also disregarded professional boundaries and interfered with the work of treating physicians when Patient B was admitted to the Royal Prince Alfred Hospital in May and June 2017 and when the patient was admitted to palliative care at Concord in October of the same year hospital entered. It was these doctors who filed the complaint with the HCCC.