Sunday at the Melbourne Theater Company
For an all too brief moment, there was a kind of artistic utopia in the eastern suburbs of Melbourne. Heide was home to art patrons John and Sunday Reed, and in the 1930s, 40s and 50s it was home to a handful of modernist artists who lived and worked on the idyllic estate.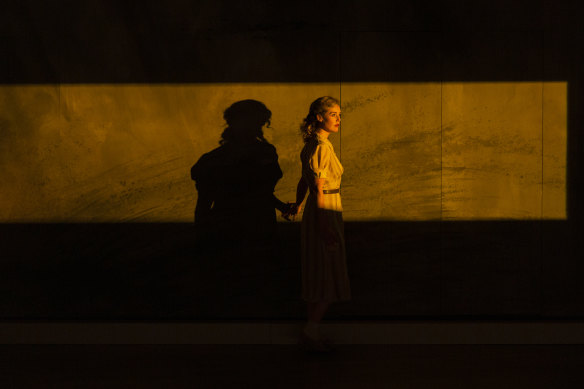 Such artists included Joy Hester and Sidney Nolan, both of whom developed complex — and in the latter's case, intense — relationships with the Reeds. Nolan, who moved there in 1941, lived a complex ménage à trois for years before things came to a head, prompting him to pack his bags and leave Heide for good.
"The relationship between art patrons and artists is endlessly fascinating because it's an ongoing power dynamic where you feel like, oh yeah, we're all friends. But you're not – and that goes both ways," says Sarah Goodes, director of Sunday at the Melbourne Theater Company.
The debut production spans about a decade in the 40's and 50's as seen through the eyes of Sunday Reed (performed by Nikki Shiels, whose recent work includes girls boys and The picture of Dorian Gray). Not only does it examine the complex, flawed, generous, and game-changing woman at the heart of events, but it also takes in the disarray of human relationships, the shifting power dynamics within the Heide circle, and the difficulty of being a woman who doesn't fit right in line with society's expectations.
Written by Anthony Weigh, the play does not intend to be a biography; it is not a chronological account of the events that transpired between artists and patrons. "I just think biographical theater is very boring," says Goodes. "What theater offers you is this great encounter with actors and artists and the imagination of the audience. So you give them shards of things and imagine the rest." It's a collaboration.
Loading
The production invites the audience to immerse themselves in the thoughts of Sunday. "You hit them and you kind of free fall through these memory shards that hit the ground big Remember, that's the night Sidney came back and severed all ties," says Goodes.
The story revolves around Sunday, John (Matt Day), Nolan (Josh McConville) and Hester (Ratidzo Mambo), taking the key moments known and filling in the gaps with imaginary conversations and stories.
https://www.smh.com.au/culture/theatre/the-new-play-that-plunges-us-into-the-tumultuous-story-of-sunday-reed-and-heide-20230118-p5cdff.html?ref=rss&utm_medium=rss&utm_source=rss_culture Sunday at the Melbourne Theater Company