Summer in Sydney: Megan Levy
When it gets hot, I…
get in the water To swim across Bondi Bay as the sun rises after one of those stinking hot summer nights, stopping halfway to tread water and, if you're lucky, seeing the sky blaze an almighty orange, is perfection.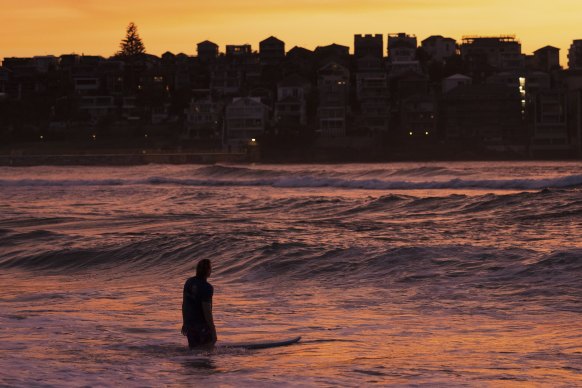 Do you take visitors with you in the first place?
Hop on a train to Circular Quay station, which must have won some awards for the best station view in the world, and then hop on a ferry to wherever you choose. Magical.
favorite cafe?
Bar Lucio, a small Italian coffee bar on a side street in Kensington.
Best summer meal?
Eat a cold mango on a hot day. cherries. Messina – which is also considered the best fall, winter and spring food.
I know it's summer when I smell…
The barbie is cheered on in the backyard.
My favorite summer song is…
That Wide world of sports theme song. As a kid, this song always meant a summer afternoon lounging with my brothers and watching cricket, probably fighting like hell and teasing our parents, and when game day was over going out into the garden to hit some balls .
The worst thing about summer?
Go out into the midday sun and feel your skin tingle. I'll be the one wearing a sombrero, a skivvy and SPF 100, thank you very much.
I also recently had an encounter with a hunter crawling around on the inside of my car. Pooh. Just no.
My next hideout is….
Centennial Park, which runs around the path at the edge of the park. You find yourself alone in the trees and forget for a few minutes that you are in a city of over a million inhabitants.
Guilty Pleasure?
Messina makes a second entry.
What aspect of life in Sydney would you change and why, and what would you like to stay the same?
More bike lanes please! Having lived in Melbourne, New York and London, I have found each of these places to be easier and safer to navigate on two wheels than Sydney. I realize I'll probably get some reader feedback on this…
See everything else on the list above for things that make Sydney a pretty awesome place to live.
https://www.smh.com.au/national/nsw/summer-in-sydney-and-that-time-i-definitely-didn-t-meet-the-pope-20221213-p5c5zt.html?ref=rss&utm_medium=rss&utm_source=rss_national_nsw Summer in Sydney: Megan Levy