Summer in Sydney means…picnics, biking in the park, too much sun
Depending on your mood: Ferry to Manly and lunch at the Boathouse on Shelly Beach. Swim in the jellybean pools en route to the Blue Mountains. Or, on a cloudier day, cycle through Bicentennial Park, stopping at the Armory Wharf Cafe in Newington.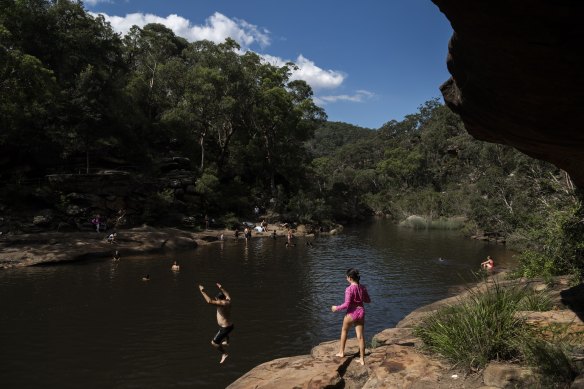 favorite cafe?
One of Sydney's best coffees, an Uber driver and I both agreed, comes from Campos Café in Camperdown. And a hat tip for the humble but colorful Rustic Pearl in Surry Hills, which still serves a quality double-shot coffee for $4.
Secret place you escape to?

My favorite parking spot over the years has been the private employee rooftop parking lot in Westfield Burwood. For 30 minutes into an eight-hour shift during five weeks of chaotic Christmas shopping, this cement slab was a sun-drenched sanctuary.
The best summer food is…
Shrimp. And the Christmas ham.
I know it's summer when I smell…
Pine Christmas Trees.
My favorite summer song is…
Missy Higgins' cover of Perry Keyes' NYE. The port is buzzing, punks are drinking long necks in the park, girls are swimming in the fountain… It's merry.
The worst thing about summer is…
FOMO at indoor work on a sunny day.
Guilty Pleasure?

sunbathing I know.
What aspect of summer life would you change?
My heart beats for the prospect of a swimmable Parramatta River and a world where all my friends ride e-bikes with me. At the risk of sounding like an evangelist, I believe there's no better way to end a day than to soak up the celebratory summer energy of dozens of people drinking and eating on the streets as you fly by them – especially when the Sun sets.
Summer in Sydney is a series in which herald Employees show off the best – and worst – of our city during the hotter months.
A cultural guide to going out and making love in the city. Sign up for our Culture Fix newsletter here.
https://www.smh.com.au/national/nsw/summer-in-sydney-means-traffic-jams-hot-chips-at-the-beach-e-biking-and-too-much-sun-20221221-p5c7z5.html?ref=rss&utm_medium=rss&utm_source=rss_national_nsw Summer in Sydney means…picnics, biking in the park, too much sun