Submarine deal with AUKUS could strain US fleet to 'stress point': US senators
Two key US senators recently expressed grave concern about the AUKUS pact with President Joe Biden, saying the plan to supply Australia with nuclear-powered submarine technology risked stretching America's industrial base to its "breaking point."
The intervention, which comes just three months before the Albanian government unveiled its submarine plan, is the first time members of Congress from both parties have raised significant concerns about AUKUS, which has so far enjoyed strong bipartisan support in Washington.
In a Dec. 21 letter to Biden, Democratic Senator Jack Reed and Republican Senator James Inhofe specifically warned against any plan to sell or transfer Virginia-class submarines to Australia before the US Navy meets its current requirements .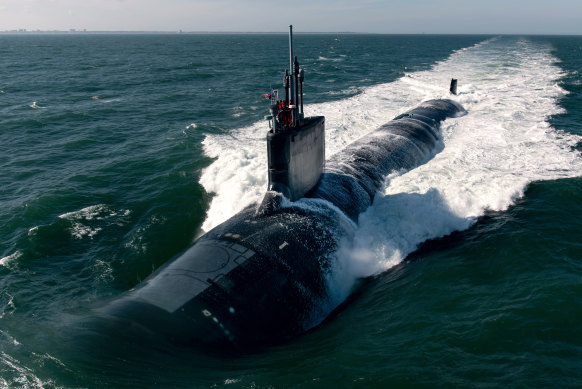 Reed is the chair of the Senate's powerful Armed Services Committee, which oversees the US military and Department of Defense. Inhofe, whose Senate career ended this week, was the top Republican on the committee at the time the letter was sent.
"Over the past year, we have become increasingly concerned about the state of the US submarine industrial base and its ability to support the desired AUKUS SSN [nuclear submarine] Final State," Reed and Inhofe said in their letter to the White House, first reported by the US website break defenses.
"We believe current conditions call for a sober assessment of the facts to avoid straining the US submarine industrial base to the breaking point.
"We are concerned that what was initially touted as a 'do no harm' opportunity to support Australia and the UK and build long-term competitive advantages for the US and its Pacific allies could devolve into a zero-sum game for scarce resources, advanced US SSNs."
Loading
Opposition leader Peter Dutton said securing a small number of Virginia-class submarines "off the shelf" from the US was the best way to bridge a looming capacity gap between the departure of the current Collins-class fleet and the arrival of locally manufactured ones Close submarines Nuclear powered submarines.
https://www.smh.com.au/politics/federal/leaked-senators-letter-warns-aukus-deal-could-harm-us-submarine-industry-20230106-p5cary.html?ref=rss&utm_medium=rss&utm_source=rss_politics_federal Submarine deal with AUKUS could strain US fleet to 'stress point': US senators