Student teachers should be paid to work in class, say university deans
More student teachers should be offered paid work in schools during their studies to attract people to the profession and stem the worsening teacher shortage, say the deans of NSW universities.
Some teaching academics have also warned against introducing ATAR minimum standards for educational qualifications as it would exacerbate labor shortages and send a negative message about the profession to students.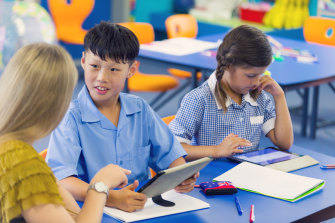 Professor Mary Ryan, executive dean for education and arts at the Australian Catholic University, told a NSW parliamentary inquiry into teacher shortages that paid work in classrooms would better prepare them for a teaching career.
"So you don't get culture shock when you walk into a school and you're like, 'Wow, that's a huge workload,'" she said.
Ryan said students placed in classrooms still need to be connected to their universities and well supported.
The University of Newcastle's Dean of Education, Professor Susan Ledger, told the inquiry that giving student teachers too much responsibility in the classroom is a short-sighted solution to the teacher shortage.
"But if they came in as para-pros and just assisted and transitioned into the workforce, that's a different story," Ledger said.
In a submission to the study, the University of NSW's School of Education said more opportunities for paid, non-teaching work in schools during undergraduate studies, as well as more flexible teaching courses, would help attract students to the profession in the short term.
In the long term, the importance of the teaching profession must be increased through rising salaries and improved access to rewarding career paths, according to the university.
https://www.smh.com.au/national/nsw/student-teachers-should-be-paid-to-work-in-schools-say-universities-20220804-p5b7b3.html?ref=rss&utm_medium=rss&utm_source=rss_national Student teachers should be paid to work in class, say university deans