Storm lashes town, NSW coast; Floods, heavy traffic on the roads
LIVE Sydney weather updates: Severe thunderstorms lash south coast city as flash flood warning issued for Gosford
We're sorry, this feature is currently unavailable. We are working to restore it. Please try again later.
Power outages on Central Coast after storm
There have been multiple power outages on the Central Coast after storms battered the area tonight.
Ausgrid says more than 7,000 customers are currently without power.
Flooding reported in Central Coast areas
Readers tell us that parts of Berkley Vale and Bateau Bay, south of Norah Heads on the Central Coast, are seeing some flooding. We are working to find photos from this region.
The storm was directly over these regions about 10 minutes ago.
It's hard to explain in words how much water we got in the last few hours.
This video from North Sydney gives you a glimpse of this afternoon's chaos.
And staff were forced to pack Mosman's library in sand to save its books.
Flash flooding likely around Gosford, authorities say
From
Anthony Segaert
Gosford recorded an incredible 45.2mm of rain between 6pm and 6.30pm tonight. Flash flooding is likely in several areas in the area.
The bureau also warns of damaging winds and heavy rains.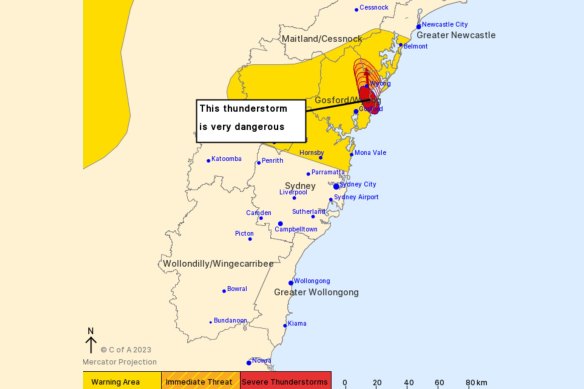 As wild weather hits the region, the weather bureau is reminding locals what to do during a storm:
Move your car under cover or away from trees.
Secure or store loose items around the house, yard and balcony.
Keep a distance of at least 8 meters from fallen power lines or live objects such as e.g. fences.
Report fallen power lines to either Ausgrid (131,388), Endeavor Energy (131,003), Essential Energy (132,080), or Evoenergy (131,093) as directed on your utility bill.
Stay away from streams and gullies.
Don't walk, ride a bike, or drive through flood waters.
If you get trapped by a flash flood, seek refuge at the highest point available and call 000 if you need assistance.
Disconnect computers and devices.
Avoid using the phone during the storm.
Stay indoors away from windows and also keep children and pets inside.
For emergency flood and storm assistance, call the SES (NSW and ACT) on 132 500.
Fire brigade assisted in landslide
The rural fire brigade helped people who appeared to be stuck in a coastal landslide.
Photos tweeted by the service show massive amounts of water and debris on the streets as people are being evacuated from their cars to safety.
Severe thunderstorm warning for Gosford
From
Anthony Segaert
The rain has shifted north beyond Sydney, at least for today.
But we've just received a severe thunderstorm warning for Gosford and Terrigal, with the Bureau of Meteorology warning of damaging winds and heavy rain.
The full details of the alert can be found here.
Backlog at Sydney Airport
From
Anthony Segaert
Departing flights at Sydney Airport experienced an average delay of around 50 minutes this afternoon due to inclement weather.
A total of 13 flights were diverted from the airport, but some passengers had to sit on the tarmac for up to four hours due to airport safety protocols, which keep people off the tarmac for several hours after a lightning strike.
Here's what an airport spokesman recently told us:
When there is lightning near the airport, airline ground handlers cannot operate outdoors in aircraft parking bays and aprons for safety reasons.

This may delay passenger disembarkation ramps and baggage pickup.

We thank the passengers for their patience.
Update on the car washed up on the beach
From
Anthony Segaert
This is the end result of the car being swept out to sea at Stanwell Park.
Herald Photo Researcher Louisa Kirby took this picture and showed the car washing up between the rocks on Stanwell Park Beach.
It is covered with a huge amount of tree branches and debris.
Coalcliff landslide confirmed
From
Olivia Ireland
Down in Coalcliff, north of Wollongong, the State Rescue Service has confirmed there was a landslide as stones fell and water spilled across the road.
At this time the road remains closed as it is unsafe. There were no injuries – but motorists were stopped and asked to find another route.
A public bus was also stuck amid the landslide at Coalcliff and had to be rescued, but no injuries were reported.
The status on Sydney's streets
From
Anthony Segaert
It's raining a lot on our roads tonight so be careful when you drive. Traffic isn't that bad right now, but here is a list of recent incidents happening in our city:
Alexandria: Flooding on Botany Road between Mandible Street and Bourke Road. Significant Delays.
Kogarah: Flooding on President Avenue between West Botany Street and O'Neill Street. Traffic affected in both directions.
Waterfall: Danger and debris on the Princes Highway at Mckell Avenue (Kooraban Street). Significant Delays.
Royal National Park: Flooding at Audley Weir between Audley Road and Sir Bertram Stevens Drive. Road closed in both directions.
Stanmore: Accident on Stanmore Road at Metron Street. Lanes closed in both directions.
We'll bring you more details as they become available.
https://www.smh.com.au/national/nsw/sydney-weather-live-updates-severe-thunderstorm-lashes-city-nsw-coastline-20230209-p5cjc3.html?ref=rss&utm_medium=rss&utm_source=rss_national Storm lashes town, NSW coast; Floods, heavy traffic on the roads