"Stop aiming too low": Graham was suspended for four weeks
It was only the second time he had faced justice in 16 years – and his second guilty verdict.
"I'm going to return to the Sharkies, have a tough month of training after a tough preseason and hopefully be ready to go in four weeks," said Graham.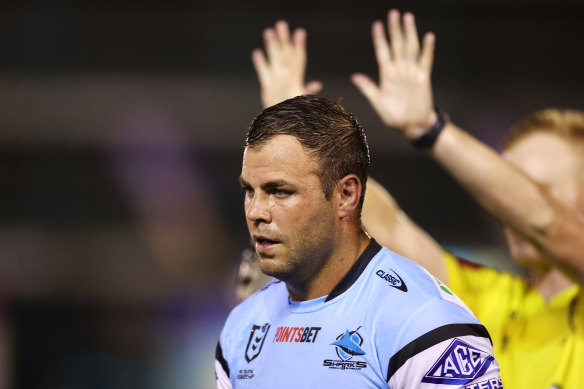 NRL Counsel Patrick Knowles argued Graham ran out of line, jumped off the ground to make the tackle and always had his sights on Moale. Although Graham knew the risk of danger Moale faced, he still went ahead and executed the tackle, Knowles said.
However, Ghabar said Graham had no time to react and even the lack of complaints from Souths players – and referee Todd Smith – suggested the tackle wasn't at the worst end of the scale.
Loading
Justice Chairman Geoff Bellew was joined on the podium by Bob Lindner and former umpire Paul Simpkins, who agreed in their guilty verdict.
Graham said he had eyes for Cameron Murray before he crossed over for Moale and had "less than a second" to react.
The brutal shot was described as "spectacular" by Cronulla coach Craig Fitzgibbon that night and, although Souths brought the crowd to life, he scored the next game through Campbell Graham.
South's hooker Damien Cook said earlier in the day Graham is a "competitor who's always out there doing his best and inspiring his team".
"He's never out there to hurt anyone, to hurt anyone," Cook said.
"We saw it live and only one thing [camera] Angle. As good as it looked – and the audience loved it – the only thing we are moving forward with in the game is protecting players from possible hits and concussions and mentoring later in life."
https://www.smh.com.au/sport/nrl/don-t-aim-low-anymore-graham-suspended-four-weeks-20230307-p5cq5y.html?ref=rss&utm_medium=rss&utm_source=rss_sport "Stop aiming too low": Graham was suspended for four weeks