Steve Smith reinvented his hitting after 2019 Ashes
For Smith, the sweet spot of his career was the summer of 2014/15 when he dominated India and was the linchpin of Australia's ODI World Cup victory on home soil. At the time, he was known for "nobody knows how to get me out," and hit like it.
But as of 2019, it took up to one session in Adelaide – just before Australia were eliminated from the Twenty20 World Cup – for all components of feet, hands and weight shift to be in sync. Smith's first attempt to demonstrate the changes was derailed by COVID-19, which he carried into the game against Afghanistan.
"I've been looking at footage for as long as you wouldn't believe, just innings, mostly in 2015," he said. "I think that was when I did my best in the Indian series at home and throughout the World Cup and that's my blueprint that I always go back to to figure out what I was doing there.
"I've finally arrived. I was in the nets. I think I was in Adelaide just before the T20 game against Afghanistan. I felt like I found something and then I got COVID.
"I played this game with COVID and didn't really get a chance to get in the middle to implement it in any way. And then the next game I played was against England and that game I think I scored 80 points not over.
"And yes, that was the first time I put everything into practice in the middle and it just clicked for me. We're always looking for these things to make you better. I'm happy I finally stumbled across this and hope it continues to work well for me."
Smith reduced things to a single moment, a single shot – a widely acclaimed cover act in Adelaide, during which he formed the words "I'm back, baby". He certainly was — in 16 innings in all formats, Smith has since hammered 1,027 runs at 85.58 with four centuries.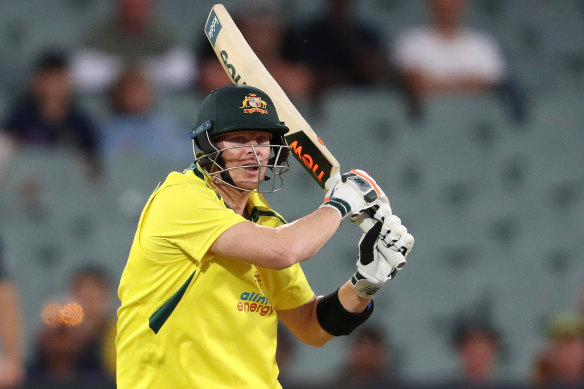 "It was probably that ball that I hit through the ceiling, just my weight shift through the ball," he said. "The way my hands went through it and I had felt it in the webs a bit, but I hadn't implemented it in the game yet.
"As soon as I hit that shot I thought I just realized something clicked. It's the rhythm I was looking for and yes I got it pretty clear I think straight away. So yes, a bold statement, but it felt like I made it happen."
Loading
This is all very useful as far as Australia in 2023 is concerned. Smith goes to India and then to England with full confidence in his game and his ability to get a step or two ahead of the bowlers, whether they're spinners on turning lanes or quick men on the hem.
"I think some subcontinent wickets suit my style of play," Smith said of India. "I really enjoy playing on those spinning lanes there, it's so much fun and there's always something happening.
"But you know, when they're not the spinning ones and they're a little flatter there, the ones where you can really make money and you have to make big, big points. I think that's certainly one thing I'll say to the guys when we get over there.
"It's one of my experiences that I've had and you can only play by the surface that's in front of you."
https://www.smh.com.au/sport/cricket/smith-2-0-where-the-reinvention-of-a-batting-genius-began-20230131-p5cgrx.html?ref=rss&utm_medium=rss&utm_source=rss_sport Steve Smith reinvented his hitting after 2019 Ashes