St Paul's College, University of Sydney on a mixed gender journey
When St Paul's, the last male bastion among Sydney University's residential colleges, opened its doors to women, it was hoped that there would be a healthy interest in both sexes. It got a rush.
Headmaster Edward Loane said: "St Paul's College is receiving more applications than ever [more than 165-year] Story. Equal numbers of men and women applied. There were about six applicants for each spot."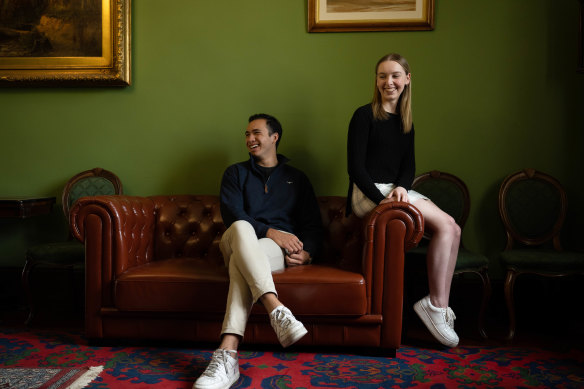 Loane attributes the high demand to two things: a enthusiasm for mixed-gender housing and a renewed interest in college life among students who have studied from their bedrooms for years and yearn for an old-fashioned, real-world college experience.
Interest has also increased at other universities. Tiffany Donnelly, Principal of the Women's College, said: "We've all seen an upsurge in applications. The students said to me, 'I want to spend time on campus'."
For many years, St. Paul's was an outlier among colleges because it refused to admit girls as an undergraduate. It also had a reputation for rowdy behavior. In 2017, former Vice Chancellor Michael Spence said "a deep contempt for women" was a "pervasive issue in the life of the college, leading to its very license to operate."
The culture was laid bare in a 2018 report that revealed a mattress-lined "bone room" and humiliating defilement rituals. But the report prompted the college to acknowledge and address that culture. There were no more scandals.
Loading
Last year it decided to admit female undergraduates (it already had a common graduate wing) because diversity was important to its mission of "educating the nation's leaders." "I find [St Paul's] has come a long way," said Loane.
"Right then, when they [co-residential] Conversation started first [in April 2021], there had been a cultural shift, so I thought we could have the conversation. Rather than being the solution to the cultural problem, I think this is a natural progression of the cultural shift that has taken place."
https://www.smh.com.au/national/nsw/from-a-bone-room-to-yoga-st-paul-s-college-journey-on-consent-20230104-p5cad9.html?ref=rss&utm_medium=rss&utm_source=rss_national St Paul's College, University of Sydney on a mixed gender journey