St. Ignatius College Riverview students fall into the water
Amid the commotion in the water, the ferry attempted to maneuver forward when the rope attaching it to the quay snapped. "The ferry ran uncontrolled towards the bank and almost ran aground on the riverbank," the Safe Work documents said.
After the children were rescued and the remaining students disembarked, the ferry staff said they were behind schedule and had to leave.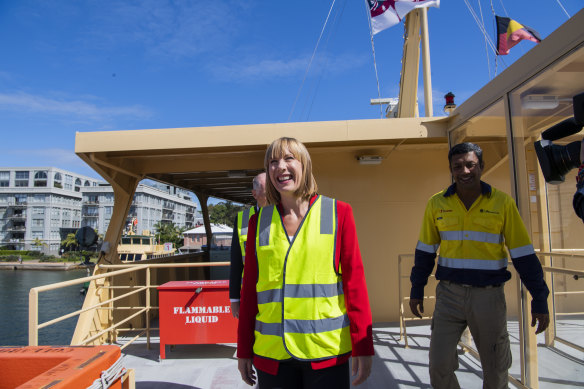 The school wrote to SafeWork saying it was concerned that the incident could happen again because staff "didn't know how to properly moor and secure the ferry," improper safety equipment, and "not being on schedule with respect to the safety of the." passengers". "
The school said Captain Cook's service has been great in the past, "however there has been an increase in poor safety culture in recent weeks."
A spokeswoman for Captain Cook Cruises said the company conducted a thorough investigation into the incident and acted on the findings "to prevent a similar incident from occurring in the future." The investigation was overseen by the Australian Maritime Safety Authority, the lead agency, which said it had "issued an improvement notice to the operator".
A copy of the report was given to the Office of Transport Safety Investigations, which oversees public transit safety investigations, but did not actively participate in the investigation.
"This incident was undoubtedly preventable and the company needs to invest more time in training its crews."

Paul Garrett from the Maritime Union of Australia
Haylen said the private operator has given assurances that it has conducted an investigation and taken steps to prevent similar incidents in the future. "I'm not disputing what they say, but I'm not convinced that's enough," she said.
"Without knowing the details of what happened that day, it's inevitable that something wasn't done right when a gangway and two school children ended up in the water.
"I have therefore urged my department for advice to have this horrific incident independently investigated by the company. I want recommendations on actions we can take as a government to ensure a mishap like this never happens again."
Paul Garrett, deputy secretary of the Maritime Union of Australia, said the incident was a reminder of the importance of training and robust safety systems.
"This incident could have possibly been much worse and turned into a tragedy," he said. "It is noteworthy that the Bureau of Traffic Safety Investigation decided not to conduct a proper public inquiry.
"This incident was undoubtedly preventable and the company needs to invest more time in training its crews and ensuring strict safety standards in its operations."
St Ignatius College principal Paul Hine said the students were "well looked after and well supported following the incident… We trust the investigation has been thoroughly completed in accordance with Safe Work NSW regulations."."
The Morning Edition newsletter is our guide to the day's most important and interesting stories, analysis and insights. Login here.