Sport is not war – but the Digger spirit can inspire, says Wallabies coach Eddie Jones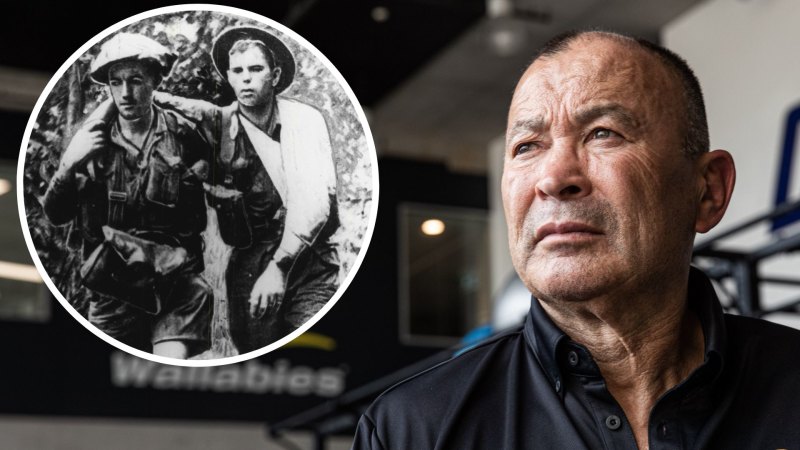 The first thing the mind means is no devotion.
During the Boer War, around 300 Australians under the command of Englishman Colonel Charles Hore had to be bombarded by Boer artillery for days and surrounded by 2,000 Boers led by the implacable General Jacobus "Koos" De La Rey.
On the morning of August 9, 1900, a white-flagged Boer envoy approached with an offer. If Australians lay down their arms, they may escape with their lives. Otherwise death. Not without reason, Hore thought it was a good offer and made it to his senior officers.
The first man to speak was Major Walter Tunbridge of Queensland. His rambling remarks were clear: "You, Colonel Hore, can surrender if you have to and I cannot stop you. But we're Queenslanders and we're not giving up. If necessary, though we are only a hundred, we will retreat from your surrender and fight our way through Boer lines."
Other officials felt the same. In the end, faced with united opposition to his proposal, Colonel Hore really has no choice, saying to the emissary: ​​'Even if I wanted to surrender to you, and I don't, I command Australians who would cut my throat , if I accept your terms."
The emissary is sent on his way, but only after one of the Australian soldiers also hands him a scribbled note to pass on to his Boer comrades: 'If de la Rey wants our camp, why doesn't he come and take it? We look forward to meeting him and his men, and we promise them a grand welcome at the end of a toast fork. Australians will never give up. Australia forever!"
The Australians persevere and eventually win the day.
A similar spirit was conjured in Tobruk, where for the first time in all of World War II the German army was coldly stopped, despite the Australians on the border and the British on artillery fighting an overwhelming force. How was it made? The great ABC correspondent Chester Wilmot gave the greatest incantation of the Digger Ghost I've ever seen.
"The spirit that made Australia," he wrote, "is the spirit that held Tobruk. The inspiring and unifying force in Australian life is not tradition or nationalism or social revolution. It's a very simple thing. Henry Lawson called it MATESHIP. . . the spirit that holds people together. In Australia, men have stood together through droughts, bushfires and floods. In Tobruk they despised misery, danger and death, for no digger would ever abandon his cobblers. At Tobruk, for the first time in this war, the Germans were pushed back by a spirit that even tanks and dive bombers could not defeat."
Let me hear you say, "RAH!"
How to make this more relevant to a more diverse Australian society is also an intriguing question, and it goes much further than just the wallabies.
Loading
For that, I would follow the words of Prime Minister Paul Keating after he kissed the ground at Kokoda in 1992: "The Australians who served here in Papua New Guinea fought and died, not in defense of the old world, but in defense of the new world . Her World. They died in defense of Australia and the civilization and values ​​that grew there."
Yes, Kokoda was a far more "diverse" battle than any of the foregoing, with the New Guineans themselves helping immeasurably in bringing supplies forward and wounded diggers back. But Keating's point was about the fact that the world is evolving, and while the Diggers themselves may be fighting for an entirely different kind of world over the decades, there really are certain values ​​that have thrived and are worth commemorating , to be celebrated and accepted.
I am not suggesting that these values ​​or Eddie's "Spirit of the Diggers" are uniquely Australian.
But I will say that the record shows that together, in the struggle of their lives, Australians who live after them can achieve truly extraordinary things.
Twitter: @Peter_Fitz
News, results and expert analysis from the sports weekend are sent out every Monday. Sign up for our sports newsletter.
https://www.smh.com.au/sport/rugby-union/sport-is-not-war-but-the-digger-spirit-can-inspire-20230208-p5ciyd.html?ref=rss&utm_medium=rss&utm_source=rss_sport Sport is not war – but the Digger spirit can inspire, says Wallabies coach Eddie Jones