Sports
Sidney Crosby injury update: Penguins captain returns to practice, status unknown for Game 7 vs Rangers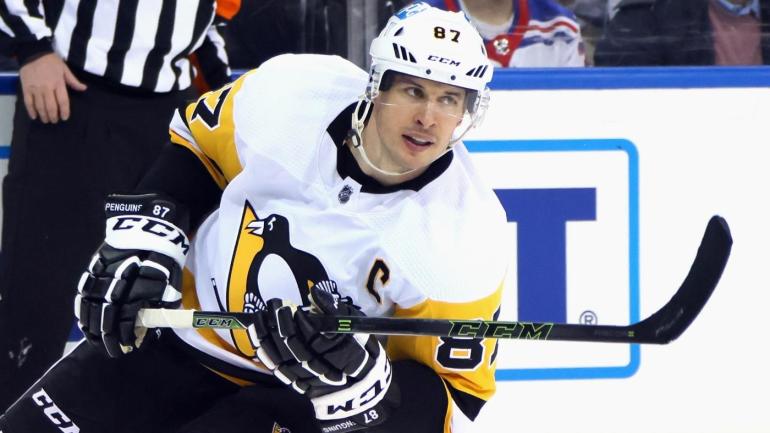 Getty Images
Pittsburgh Penguins captain Sidney Crosby returned to practice Saturday after missing Game 6 of their first round playoff series against the New York Rangers, according to the Pittsburgh Post Gazette. Crosby's return to practice shortly after suffering a Game 5 concussion was a positive sign for Pittsburgh, but Crosby's status for Sunday's Game 7 remains uncertain.
Crosby suffered a concussion early in the second half of Game 5 on Wednesday and left the game after being punched in the face by Rangers defenseman Jacob Trouba while fighting for possession of the puck. Crosby left while the Penguins were leading 2-0 in the game – and leading 3-1 in a row – and his team would end up losing both games 5 and 6 to go to Madison Square in a winning take- All situation to land Garden in a Game 7 on Sunday.
Although Penguins head coach Mike Sullivan did not comment on Crosby's status Sunday, Crosby is said to be "in good spirits" and traveling to New York with the team.
"He's in a good place," Sullivan said of Crosby. "He is doing his best to get fit again as soon as possible. We will see how this process goes."
Having Crosby back would make a huge difference for the Penguins as he was a dominant force in his team's playoff series against Rangers. In four and a half games, Crosby has scored two goals and accumulated nine points. He was also a key counterattack against the Rangers' scoring trio of Mika Zibanejad, Chris Kreider and Frank Vatrano as the Penguins beat them 4-0 in the five-a-side game when Crosby was on the ice.
In addition, Crosby is also exactly the kind of player who thrives in Game 7 scenarios. In seven career Game 7s, Crosby has two goals and three assists.
https://www.cbssports.com/nhl/news/sidney-crosby-injury-update-penguins-captain-returns-to-practice-status-for-game-7-vs-rangers-unknown/ Sidney Crosby injury update: Penguins captain returns to practice, status unknown for Game 7 vs Rangers