Short film pays tribute to the poet's "revisionist history".
Australia's best-known poet Judith Wright wrote The generations of men – a chronicle of her pastoral family in Queensland in the 1850s-1959, and it was published with great acclaim.
But in the decades that followed, she reconsidered the classic settler story of the 19th century.
Loading
This was partly due to her secret love affair with the Reserve Bank's first governor, HC "Nugget" Coombs, who, like her later in life, was an advocate for Aboriginal land rights.
In another book a cry for the dead, Published in 1981, she rewrote her family narrative to include the indigenous voices of the traditional owners of the land their ancestors settled around Rockhampton.
It took 20 years, but using the diaries of her white ancestors, this time she recorded the stories of the local Barada and Darumbal and the death, destruction and dispersal that followed her family's agricultural endeavors.
Both books have now served as the basis for a short film by director Joanna Joy, which will premiere at Bondi's Flickerfest on Saturday.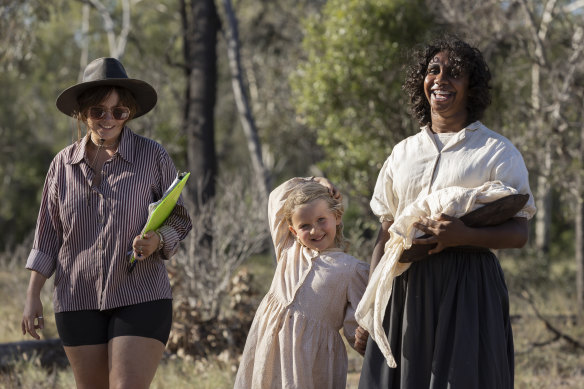 "I wanted to combine those two lenses in a film that pays tribute to Judith Wright's legacy," Joy said.
"It's not often that people rewrite their own book, but the fact that Judith did it shows that she wasn't some dopey old poet; She was indeed a woman ahead of her time on indigenous issues."
Loading
With the help of The sapphires Director and Rockamptoner Wayne Blair, Joy was able to find the original lot on which the story takes place.
She then involved the traditional owners in the film making process and asked them to co-write and star in the film adaptation. The project was filmed in two indigenous languages, with financial support from Screen Queensland and the blessing of Wright's daughter, Meredith McKinney.
"It was [Wright's] conscience that made her rewrite her book," McKinney said.
"In the 20 years that have elapsed between the two books, there has been a tremendous shift in understanding of the influence of white settlers on the Aboriginal people and the original landscape, and she had a tremendous sense of horror at what had happened."
"She would be delighted to see this story brought back in a new form."
McKinney, a Japanese translator, lives in Braidwood — not far from where her mother moved to be near Canberra's respected but down-to-earth statesman, Coombs. And she said his influence certainly played a part in her mother's "revisionist history."
"She would be delighted to see this story brought back in a new form."

Judith Wright's daughter Meredith McKinney
"They were both very private people, but they came together on Indigenous issues in particular," McKinney said.
Her mother also became close friends with fellow poet Oodgeroo Noonuccal (Kath Walker), who helped raise Wright's awareness of indigenous issues.
She said her mother not only worked tirelessly to promote Indigenous land rights and raise awareness among Australia's non-Indigenous people of their plight resulting from the legacy of European settlement, she also helped found the Wildlife Preservation Society of Queensland and a lifetime member of the Australian Conservation Foundation.
Filmmaker Joy, who grew up in Sans Souci, a south Sydney suburb, has been inspired by Wright's work since she was young. When she was 14, her father, a Wright fan, gave her a copy The generations of menand told her, "This is a story about women, not men."
"Wright's first book is an epic but silent tragedy about the women on the home front of our colonial history…while the second book is a 'revisionist history' of May Downs Station and its indigenous characters and also the South Sea workers who were brought with them here at 'Blackbirding'", she said.
Joy wants her short film to find a wider audience in a television series like Rachel Perkins. The Australian Wars which aired on SBS.
"It took me four years to make a 15 minute film, but I've learned so much from and respect the local Indigenous community and Judith Wright's integrity."
https://www.smh.com.au/culture/movies/no-fuddy-duddy-old-poet-how-judith-wright-rewrote-her-family-history-20230118-p5cdi5.html?ref=rss&utm_medium=rss&utm_source=rss_culture Short film pays tribute to the poet's "revisionist history".