Shehan Karunatilaka and his latest novel
Not a tempting prospect, but Maali can't just step away. As a photographer, he has worked on all sides of Sri Lanka's long and bitter civil war. Not only does he know where bodies are buried; He has a visual record of who buried her. He must get his two best friends, DD, his occasional lover, son of one of the worst mass murderers, and Jaki, DD's cousin and Maali's society beard, to find the stash of negatives currently showing powerful men engaging in war crimes. He must also find out who killed him.
The three-way war in Sri Lanka lasted 26 years and ended in 2009 with the defeat and enduring bitterness of the separatist Tamil Tigers. The book is set in 1989, which Karunatilaka has described as "the darkest year I can remember," when there was an ethnic war, a Marxist insurgency, a foreign military presence, and government anti-terrorist forces.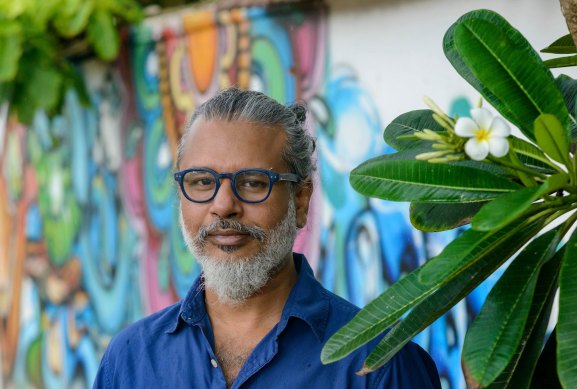 Just a few years earlier there had been a wave of state-sponsored pogroms against Tamils ​​in the north and east of the island, but the terror took many forms. The character of Maali was inspired by Richard de Zoysa, a middle-class gay activist whose 1990 murder was never solved. Many journalists were also missing; An editor was shot dead in the street.
Karunatilaka says he had no concerns for his own safety in writing about this smoldering story, although it was effectively silenced; it is not taught in schools, for example. He wouldn't write about current events as confidently, he says, but the villains of 1989 are mostly dead. "Nobody's saying I've misrepresented Sri Lanka."
In fact, most of his critics complain that he tells too much of the truth. "It's not very flattering for a country trying to reinvent itself," he says. "But it seems so many regimes ago; We've had so many disasters since then." Writing novels and writing in English, he says, makes him less of a threat. "And I think it helps to hide behind extreme characters, quite unlike me."
Loading
Shehan Karunatilaka grew up in a middle-class English-speaking household, attended a Hogwarts-like school and then university in New Zealand, returning to Colombo at 23. He's since married, had two children, and worked as a copywriter while writing novels in the wee hours. The best known Sri Lankan writers live abroad, he says; he had to publish his first novel himself.
Chinesethe story of an elderly, perpetually drunk sportswriter who becomes fixated on a missing Sri Lankan spin-bowler won the 2012 Commonwealth Book Prize and was voted by no less an authority than one of the best books ever written on cricket widths. How The Seven Moons by Maali Almeida, it's exuberant, irreverent and bursting with life. (It also requires, it must be said, either some knowledge of cricket or a strong tolerance for its mysteries.)
Karunatilakka says his two jobs go well together. "They are the same. Writing about whatever, cell phones, powdered milk, you dive into that for a few days, then you brainstorm and then you distil it down to an ideal paragraph: that's what the brand is about."
He also approaches his subjects in the same way. "I often start with an idea. What if the greatest cricketer of all time played anonymously for Sri Lanka in the late 80's? What if a ghost investigates its own murder? That's also advertising, you know. A parking space." Writing texts also brings a special discipline into his life. "You can't say you have writer's block; You are planning a meeting and you need to be there with ideas. I think you're going through with this. You write, edit, write again. You don't wait for inspiration."
Another question. Does he offer hope for Sri Lanka, which in 2022 has been suffering from runaway inflation and shortages, has been roiled by three prime ministers and has just received a massive loan from the IMF? Shehan Karunatilaka nods stoically. "I'm also asked that at festivals of lights," he says. "Is there hope? Is it getting better? I've lived too long – through too many false dawns in our lives: the peace agreement, the truce, the end of the war, and every time it's 'okay, now we're unstoppable'."
Of course, one must not give up hope. On the other hand, there are the same old faces in power. "You can't help but be cynical. But let's see. What to do? Let's wait and see. I always end my books with the hope that there is a chance of redemption. I will also keep that in my attitude."
Shehan Karunatilaka is a guest at the Sydney Writers' Festival (swf.org.au) and Melbourne Writers Festival (mwf.com.au).
The Booklist is a weekly newsletter for book lovers from book editor Jason Steger. Get it delivered every Friday.